Let's face it; trampolines are awesome. Kids love them. Many adults love them. They're a great way to get the kids away from their screens for a while and out doing something physical.
Plus, today's trampolines are pretty safe, thanks to enclosure nets. But there's still one safety factor that's easy to overlook: the trampoline weight limit.
Before purchasing a trampoline, you must know how much weight can a trampoline hold. 
Weight limits for trampolines vary across sizes, styles, features, and shapes. Toddler trampolines (3-5ft) usually hold between 55-150 pounds. Trampolines for kids and teenagers (8-10ft) can hold between 175-375 pounds. And full-size trampolines (12-15ft) can hold between 350-500 pounds.
Read on to discover all you need to know about trampoline weight limits so you can make the best decision possible for the safety of anyone who will enjoy the trampoline.
How Much Weight Can a Trampoline Hold?
How much weight a trampoline can hold depends on its size and the specific model – but in general, trampoline weight limits usually range from around 150lbs. (smaller models) to around 450lbs. (larger models).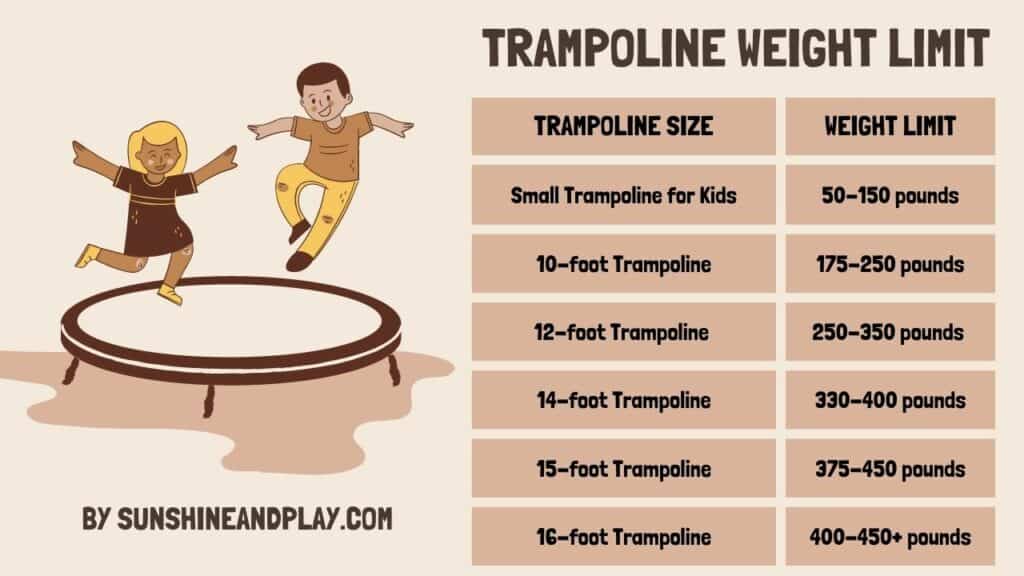 However, weight limits aren't always an exact measure of the trampoline's total capacity.
Firstly, it's important to note that the weight limit describes the maximum weight of the person or people jumping on the trampoline, not the total weight it can hold in general.
A trampoline's maximum static load rating is typically around 3 to 4 times higher than its listed weight limit. 
That's not to say that it's a good idea to set up a couch on your trampoline – leaving a significant amount of weight on it will still wear out the mat and springs over time – but if you and a few other full-grown adults want to pile on and do some stargazing (not jumping), you're probably in the clear.
Trampoline weight limits exist for two main reasons: the users' safety and the trampoline's longevity.
In other words, the limit is there to help prevent damage that may result in an injury – or an unsatisfied customer. But not all manufacturers share the same level of concern.
Naturally, a higher weight limit is a major selling point for many consumers, so some manufacturers may market their trampolines as having a weight limit just within the bounds of safety standards.
Other brands may err on the side of caution and list a slightly lower weight limit than their product is actually rated for, providing an extra safety margin.
Real Examples of Trampoline Weight Limits by Brand
Why Do Trampolines Have Weight Limits?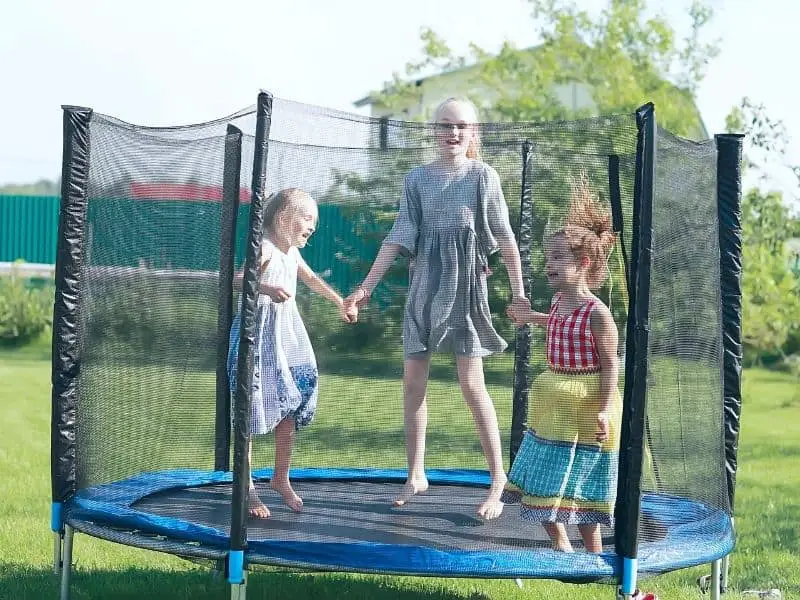 Trampolines have weight limits for two main reasons: safety and proper function. But these are not mutually exclusive. In fact, safety and proper function go together when it comes to trampolines.
Weight Limits for Safety
The weight limit on a trampoline is a basic safety parameter. Trampoline manufacturers extensively test their trampolines to ensure they're safe and determine the maximum weight limit for each model.
Exceeding the weight limit can not only be dangerous, but it can also cause the equipment to wear down quickly, which can shorten the lifespan of the trampoline. 
Weight Limits for Proper Function
A trampoline's weight limit also provides guidelines for proper function. The idea is to bounce around and have fun on the equipment.
However, if there's too much weight on the trampoline, the rebound required for ideal bouncing conditions will be hampered. To make the most out of a trampoline, it's important to keep under the weight limit.  
What Factors Influence a Trampoline's Weight Limit?
Knowing which factors influence a trampoline's weight limit can help you determine which trampoline to purchase.
It can also help you determine if your kids are safe while playing on someone else's trampoline, the specific weight limit of which you don't know.
You can look at the trampoline and estimate the weight limit by using the factors below.  
Age Range and Size
When it comes to trampolines, age range, and size go hand-in-hand. The larger the trampoline, the more suitable it is for bigger kids or adults (but also, the harder it is to move).
One obvious exception to this comes in the form of small workout trampolines that are specifically made for adults.
This makes sense when you consider that younger kids weigh less than older kids. So if you see a small trampoline that's clearly made for one kid at a time, you can be confident that it has a low weight limit (usually 50 to 100 pounds).  
Mat
Another major factor affecting a trampoline's weight limit is the jumping mat, sometimes called the jumping pad.
Most mats are made from woven polypropylene or nylon. You can look closely at the mat and see the individual threads as they weave in and out of each other. 
Those trampolines with high weight limits often employ jumping mats that have multiple thermal-locked layers of synthetic fabric. Since this is the part the people jump on, it's important to be strong yet flexible. 
Springs
A trampoline's springs are perhaps the most responsible for weight limits. The length and number of the springs both affect the weight limit.
Longer springs and more flexible strings provide a bouncier surface but lower weight limits. Shorter springs generally provide less of a bounce but facilitate a higher weight limit. 
The number of springs also affects the weight limit. The more springs there are, the higher the weight limit.
Shape
A trampoline's shape can also affect the weight limit. Rectangular trampolines tend to have higher weight limits because their shape requires more support. 
While a bounce on a round trampoline distributes the weight pretty evenly around the entire frame and the springs, a bounce on a rectangular trampoline puts more stress on the side nearest the jumper and relatively little stress on the other side.
For this reason, rectangular trampolines are designed to hold more weight, which means they're also more expensive.
Frame
Most trampoline frames are made from durable galvanized steel tubing and are designed to handle a whole lot of weight. But not all frames are created equal.
The trampoline's weight capacity will be partly determined by the thickness of the tubing and how well the frame is reinforced.
Brand/Manufacturer
To a lesser extent than the factors above, the brand/manufacturer also influences a trampoline's weight limit.
Not every trampoline maker uses the same materials and the same design for their trampolines. This means that two trampolines of the same size from different brands may have slightly different weight limits. 
There could be dozens of little reasons for this that are only clear to the specific makers. Either way, it's best to follow the company's weight recommendations.
Here's a quick table showing the trampoline weight limit from different brands per their size.
| Trampoline Brand/Size | 16 ft | 15ft | 14ft | 12ft | 10ft |
| --- | --- | --- | --- | --- | --- |
| Springfree | 1500lb | 1500lb | 1500lb | 1100lb | 1100lb |
| Skybound | 330lb | 330lb | 330lb | 220lb | – |
| Skywalker | 400lb | 275lb | 200lb | 200lb | 175lb |
| Zupapa | – | 425lb | 425lb | 425lb | 375lb |
| CalmMax | 600lb | 400lb | 400lb | 400lb | 400lb |
| ORCC | – | 450lb | 450lb | 450lb | 425lb |
| Merax | – | 375lb | 330lb | 300lb | 220lb |
| Giantex | 375lb | 330lb | 330lb | 330lb | 300lb |
| Happy trampoline | 550lb | 500lb | 400lb | 400lb | 400lb |
| Alleyoop | 295lb | – | 250lb | 240lb | – |
| Vuly play | 330lb | 330lb | 330lb | 330lb | – |
| Upper bounce | 330lb | 330lb | 330lb | 300lb | – |
| Jumpking | 300lb | 260lb | – | – | – |
What Happens If You Exceed the Weight Limit On a Trampoline?
The consequences of exceeding your trampoline's weight limit can range from relatively minor to extremely dangerous, depending on how much you exceed it.
In some cases, it may result in a serious injury; in others, it may cause your trampoline to wear out and deteriorate faster. 
If you go over your trampoline's weight limit by 10 pounds or so, it will probably have little to no effect on the trampoline or its safety (again, many companies lowball the weight limit to create some extra breathing room).
But going way over the limit (100 pounds or more) is asking for trouble. We've all seen clips of someone jumping on a trampoline that's way too small for them – how many of them ended well?
Going over the weight limit can damage the trampoline in several gradual and immediate ways. The mat can rip, springs can snap or fly off, the frame can bend or collapse, etc.
Any of these scenarios can cause serious injuries and leave you with a broken trampoline. To top things off, most warranties are voided if the recommended weight limit is exceeded. 
To sum up, there are certain dangers to exceeding the weight limit of a trampoline. Physical harm can happen in a number of ways when the weight limit is maxed out:
The mat can rip and dump those jumping on the ground underneath the trampoline. 
The mat can become stretched, causing those jumping to impact the ground underneath, even though the mat may stay intact. 
Springs can become stressed and, rarely, can snap loose. 
The frame can become damaged, bending inwards and folding the trampoline in half. This can cause injury and can ruin the trampoline. 
Serious injury can happen if you overload a trampoline, so avoiding it at all costs is best!
Why Are Trampoline Weight Limits So Low?
Trampoline weight limits tend to be low due to the inherent limitations of the materials used (particularly in terms of the springs and mat).
Most trampolines are also not designed to accommodate multiple adults. Manufacturers set limits low enough to ensure safety and prevent undue wear & tear.
While it may seem that the weight limits on some trampolines are unnecessarily low, the limit is ultimately there for the safety of everyone who uses it.
In some cases, the weight limit may be low to prevent damaging the trampoline and to restrict the number of people using it at one time, which can prevent head collisions or other injuries due to overcrowding.
Even manufacturers of commercial and gymnastic-level trampolines, which have some of the highest weight limits of all, can only go so far without compromising safety or failing to meet quality standards.
Trampoline Sizes and Standard Weight Limits
I've put together a list to give you an overall idea of the weight limits of common trampoline sizes. These are just estimates, so keep that in mind. If you want real examples, scroll down to the next section and look at the table provided there. 
Weight Limits – Trampolines for Toddlers (3 to 5-Feet)
Trampolines for toddlers are inexpensive, and most can fit easily in the house. They help the little ones develop motor skills and balance. Plus, kids love them! The weight limits for these range between 55 pounds and 150 pounds, depending on size.
Little Tikes 3-Foot Round trampoline (55-Pound Weight Capacity)
Sale
Little Tikes 3′ Trampoline – Amazon Exclusive
Perfect trampoline for toddlers to burn off energy
Features large jumping surface and handle bar for…
Plastic and metal combination
Trampoline is for indoor use only. Age- 3 to 6 years….
LANGXUN 5-Foot Round Trampoline (150-Pound Weight Capacity)
Sale
Weight Limits – Trampolines for Kids (8 to 10-Feet)
Trampolines mainly meant for kids will usually be in the 8 to 10-foot range. Most of the time, the weight capacity for these is between 150 and 250 pounds. However, there are certainly exceptions, as you'll see below:
Skywalker 8-Foot Round Trampoline (175-Pound Weight Capacity)
Doufit 10-Foot Round Trampoline (375-Pound Weight Capacity)
Weight Limits – Trampolines for Kids and Adults – (12 to 15-Feet)
These larger trampolines are ideal for lots of backyard fun. If the weight limit isn't exceeded, they can be used by multiple kids or adults at once. These typically have weight limits between 350 and 500 pounds.
SereneLife 12-Foot Round Trampoline (352-Pound Max Weight)
Bluerise 14-Foot Round Trampoline (330-Pound Max Weight)
Outdoor Heights 9-Foot by 15-Foot Rectangular Trampoline (500-Pound Max Weight)
In Conclusion
It's important to get the right weight limit for your trampoline right off the bat. A trampoline with a lower weight limit may be good for your kids right now, but what happens as they get older and hit those growth spurts?
You don't want to purchase another trampoline because the weight limit is too low. 
That's why it's good to go for a trampoline with a higher weight limit if you foresee your kids (or yourself) using it for many years. This way, you can stay safe and enjoy the trampoline without any worries about maxing out the weight limit!