A trampoline can be a tremendous source of fun and exercise for your kids (and you). But due to the somewhat high statistics for trampoline-related injuries, it can also be considered a hazard or a liability – especially in the eyes of insurance companies. That's why many people wonder if putting a trampoline in their yard will make their homeowners insurance rates go up – or whether it will be covered at all.
A trampoline may or may not raise your homeowners insurance – it depends on your insurance company and what's covered under your specific policy. But even if your premium doesn't increase, you may need to pay surcharges or take out a separate insurance policy to help cover your trampoline.
To understand why a trampoline might raise your homeowners insurance premium, let's first look at what kinds of coverage you may need.
Trampoline Coverage
There are a few different scenarios in which having your trampoline covered by your insurance policy would be beneficial. Each of these scenarios would require a different type of coverage.
Dwelling/Other Structure Coverage
This coverage would help with the cost of repairs if a storm were to send your trampoline crashing into the side of your home or another covered structure. This is one of the least likely scenarios, but it is not unheard of.
Personal Property Coverage
This coverage would come in handy if a storm or other covered incident were to cause damage to the trampoline itself (due to a falling tree, utility pole, etc.). Again, this isn't very common, but it could save you from having to shell out for a new trampoline.
Personal Liability & Medical Expense Coverage
This coverage would protect you if a guest or trespasser were to take you to court or incur medical expenses after being injured as a result of using your trampoline. This is the most common scenario and the one that insurance companies are most concerned with because it increases the likelihood that they'll have to pay out for claims filed against the property owner.
Insurance companies tend to view trampolines (as well as playsets, treehouses, and swimming pools) as "attractive nuisances," which means that they may look inviting to small children or unscrupulous passersby who may enter the yard without the homeowners' knowledge and injure themselves. For this reason (and the higher risk of injury claims in general), many insurance companies won't cover trampolines.
Personal Umbrella Policy
Many experts recommend taking out an umbrella policy if you have a trampoline or other potentially hazardous play equipment on your property. An umbrella policy (that lists the trampoline under its coverages) adds an extra layer of protection in case a liability claim exceeds what's covered by your homeowners insurance.
For instance, if a neighbor's child gets hurt on your trampoline and her parents file a $200,000 lawsuit against you, but your homeowners insurance liability coverage is only $100,000, your umbrella policy (most of which start at $1 million in coverage) would cover the other half.
In some cases, an umbrella policy may provide coverage for your trampoline on its own, even if it's not covered by your homeowners insurance – provided your insurance company allows you to keep the trampoline on your property.
Does Homeowners Insurance Cover Trampolines?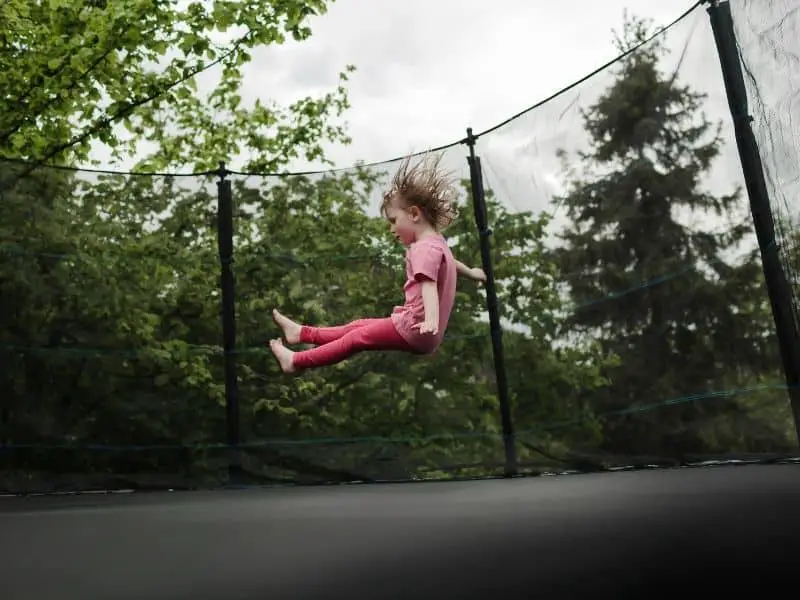 Most homeowners insurance policies do not cover trampolines due to their high risk of costly liability claims. However, some insurance companies do cover them if certain safety requirements are met, and others cover them with no caveats whatsoever. In some cases, trampoline protection may be added.
Insurance companies typically define trampoline coverage in one of three ways – coverage with no exclusions, coverage with restrictions, or trampoline exclusion.
No-Exclusion Coverage
A policy with no exclusions will cover your trampoline without any restrictions or clauses, up to the limits of your policy. This generally includes personal property, dwelling/structure, and liability coverage. This kind of policy is not very common, but many companies do offer it.
Coverage With Restrictions
Some insurance companies will cover your trampoline, but only if you meet their requirements for safety precautions. These usually include installing netting around the perimeter and keeping the trampoline completely fenced in to deter passing children. This kind of policy is fairly common, at least in some parts of the country. 
Trampoline Exclusion
If your policy states that trampolines are excluded in all cases, your trampoline (and any injuries, litigation, or damage caused by it) will not be covered by your homeowners insurance. A personal umbrella policy may be your only alternative in some cases, but that will depend on your specific situation.
Some insurance companies will allow you to keep the trampoline even though it's excluded from coverage, leaving you personally liable for any incidents it causes – but other companies may require that you remove it.
Can an Insurance Company Drop You for Having a Trampoline?
If your insurance policy prohibits having a trampoline on your property, and you add one (or fail to remove an existing one), your insurance company may refuse to renew your policy – or even cancel it outright. They may also take similar actions if you fail to report the addition of a trampoline.
Insurance companies are there to protect you by bearing the financial risk of potential damages, litigation, or medical costs. Naturally, they want to limit that risk as best they can – so they take things like potential hazards and misrepresentation of property pretty seriously.
If you're dead set on having a trampoline but your insurance company prohibits it, you'll have to decide if it's worth it to find another company that will cover it (or at least allow you to keep it without coverage).
Insurance Companies That Allow Trampolines
While many insurance companies don't cover trampolines under any circumstances, there are a few that do. At the time of this writing, the following companies were reported to cover (or at least allow) trampolines in some circumstances:
Allstate
Amica
Farmers
Geico
Liberty Mutual
Nationwide
Progressive
State Farm
Of course, laws and policies vary by state and some local codes may prohibit the use of trampolines – so it's best to consult with your insurance company to determine whether or not they offer trampoline coverage. 
How Much Does a Trampoline Raise Your Insurance Rate?
If adding a trampoline does cause your premium to go up (which it usually won't), it will likely be by $50-100 per month. Some companies may simply tack on a yearly surcharge of around $25-50. However, adding coverage with a separate umbrella policy can make total insurance costs slightly higher.
In most cases, putting a trampoline in your yard doesn't mean a higher premium. This is partly because the added liability risk is difficult to translate into a set fee, and partly because a slight increase in the premium will do very little to cover the potential legal fees and payouts that can result from a trampoline-related injury. Instead, most insurance companies choose to either cover trampolines (with or without restrictions) or not. If they do, the trampoline coverage is simply included in the price of the policy.
In Summary
Having a trampoline won't necessarily translate to a higher homeowners insurance premium, as most companies simply include trampoline coverage as part of the overall policy – if they offer coverage at all. But since every company is different and laws vary by state, you should always talk to your insurance provider before buying a trampoline.