Gorilla Playsets.
If you've spent any amount of time searching for a high quality playset, you've probably at least heard or seen the name. You've probably also seen at least a dozen of their competitors all claiming to have some kind of advantage(s) over the others.
You see it everywhere, in every industry. A brand of coffee claiming to give you 10x the energy of BRAND XYZ. A medicine claiming to get rid of your cold 20% faster. A shampoo that cleans your hair 30% better than the "other leading brands". (Really? How does one accurately measure the cleanliness of his hair?!)
Most of the time these claims are nothing more than a means of drawing in customers, even if they can be scientifically proven. Its just the way things are. And the playset industry isn't much different. After all, to make it as a business you have to differentiate yourself from your competitors. You have to stand out.
But how do Gorilla playsets differ from their competition? How do they stand out? Aren't they all pretty much the same? I mean, its not like they can claim your kids will have 15% more fun on their playsets, right? That would be ridiculous, although it would make for a great selling point if it could be proven!
But truth be told, not all playsets are created equally and there are lots of things to consider when buying one for your kids.
In this article we're going to review Gorilla playsets so you can decide if they're a good fit for you and hopefully answer the most important question: "Are Gorilla playsets worth it?"
About Gorilla Playsets
Gorilla Playsets is a manufacturer of high quality outdoor playsets, playground equipment, and accessories. They offer a wide variety of products including stand alone swing sets, space saver playsets, all-in-one playsets, and customizable accessories. As of now, they have over 90 variations of their outdoor playsets, giving customers more options than whats available anywhere else.
Gorilla Playsets has been in business since 1993 and is headquartered in Canton, GA. The company was founded on the belief that ready to assemble playsets should be made from high quality components, be durable and safe, have clear assembly instructions, and be affordable.
Since their inception, Gorilla Playsets has worked hard to make a name for themselves in an ever increasingly competitive industry. To do so, they had to take a different approach to the way they design their products. Instead of relying solely on their design engineers, they took recommendations from their customers, listened to what their kids were saying, and implemented those suggestions in their designs. The results: a better designed, safer playset, designed (partially) by kids for kids.
All Gorilla playsets are built to meet, and even exceed ASTM Safety Standards and come backed by an amazing 10 year warranty on wood, and a 1 year warranty on all other components. (More on this later)
Gorilla Playsets prides themselves on being an industry leader, and retains this status by continually producing safe, innovative products that kids and families love. By listening to the needs of their customers, they have secured themselves as one of the top names in their industry.

Gorilla Playsets
Ok, now that we've got some basic info out of the way lets talk about what Gorilla Playsets has to offer in terms of products.
Currently there are over 90 variations of Gorilla playsets available. Most all of them have at least two swings, a slide, clubhouse area, and a climbing wall. Some of the more feature rich models include multiple slides, upper and lower level clubhouses, bridges, monkey bars, etc. Depending on how much you're willing to spend will determine what features you can expect.
While not all Gorilla playsets come with the same features, they are all built with the same quality. Their budget friendly models aren't budget friendly because they've been built with inferior woods or other components, they just dont have as many play features.
All Gorilla playsets are made with the same wood, same hardware, same swing chains, etc. You can expect a high quality playset no matter how much your budget allows.
Roof Options
Most of the variations you'll see within a certain playset will be with the roof. Some playsets only have one roof option while others have up to six.
Roof options include:
Standard Wood Roof
Deluxe Green Vinly Canopy
Sunbrella Canvas
Treehouse Roof
Treehouse Roof w/ Fort Addon
Malibu Roof
The roof option you choose will determine how much your particular swing set will be.
For example, the Gorilla Chateau Swing Set will range in price between $1749-$2299 depending on your roof selection. The least expensive is always the Deluxe Green Vinyl Canopy and the most expensive is the Treehouse Roof w/ Fort Addon. Each roof option is perfectly fine. Some just provide a bit more styling to the playset than others.
Here are a few pics of the Gorilla Chateau Swing Set with its various roof options. These different styles are pretty much the same across the board. Meaning that the Malibu Roof on the Gorilla Chateau will have the same styling features on any other playset. So if you like the Malibu roof option the best on this particular set, you'll probably like it the best on all the others.
Just keep in mind that not every playset has all of these options. And also, there is only one picture for the Vinyl Roof and the Sunbrella Roof because they look identical.
Standard Roof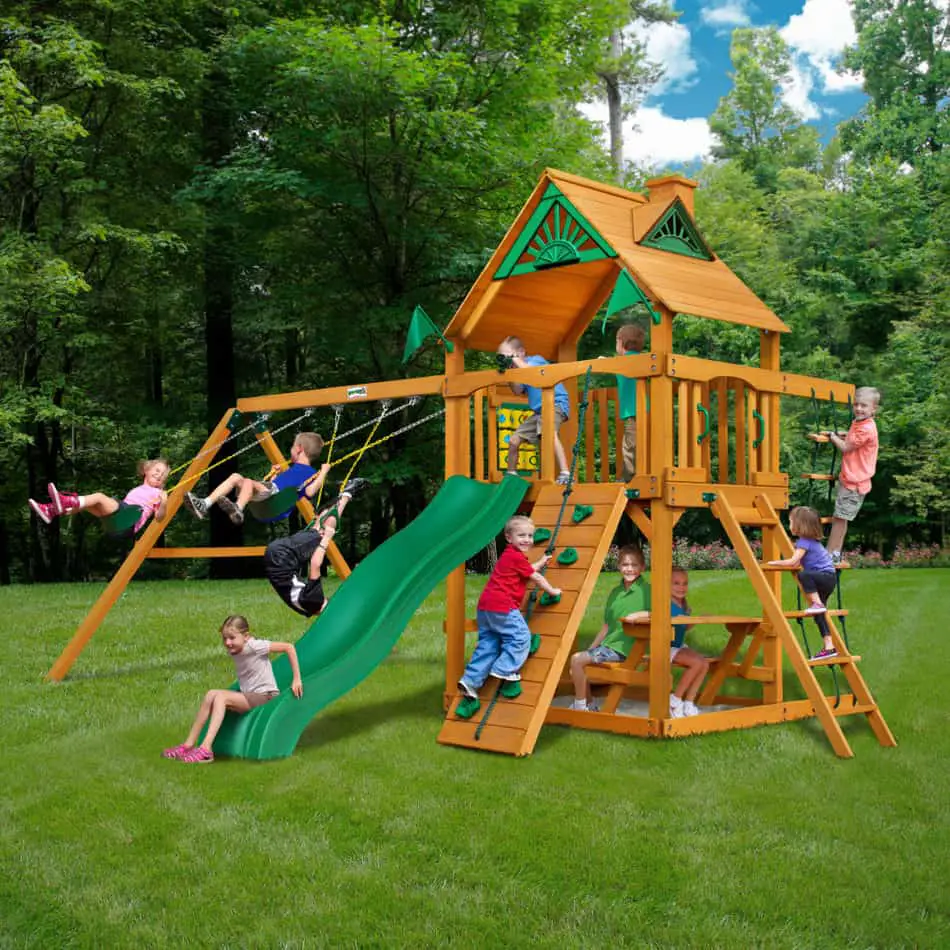 Vinyl & Sunbrella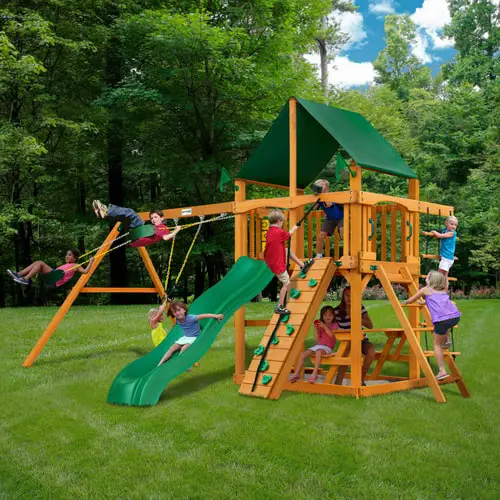 Treehouse Roof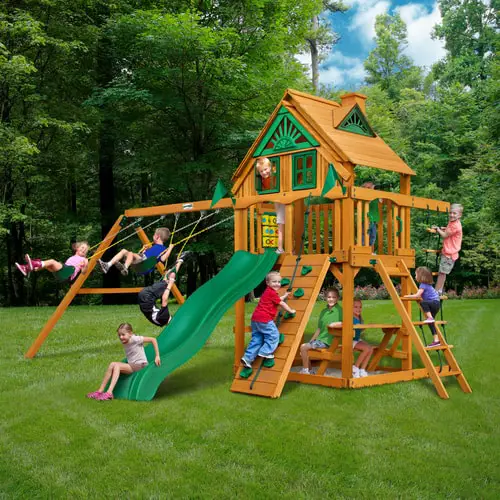 Treehouse w/ Fort Addon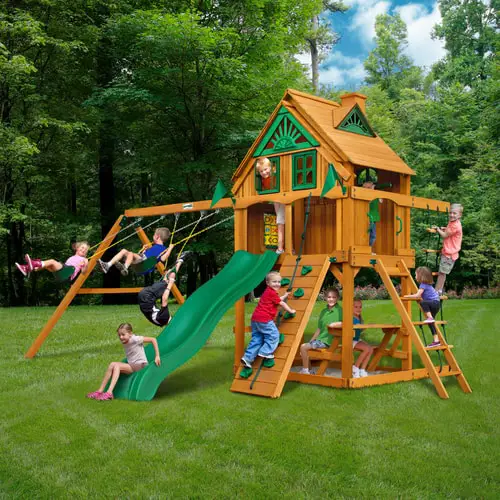 Malibu Roof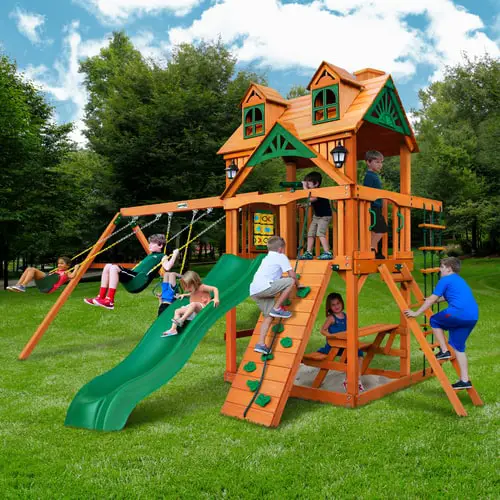 As you can see, each playset differs slightly with a different roof option. It really just comes down to personal preference and what you think looks the best.
Play Features
When trying to decide which playset is best for your kids, one thing you'll have to consider is what play features they would like. Gorilla has tons of options to choose from. But the more you want, obviously, the more its going to cost you.
Lets do a quick comparison so you can get an idea of what a top of the line model would cost compared to an entry level model and see what play features each one has.
We're going to look at the Gorilla Nantucket and the Gorilla Empire Extreme for the comparison.
Gorilla Nantucket – $1449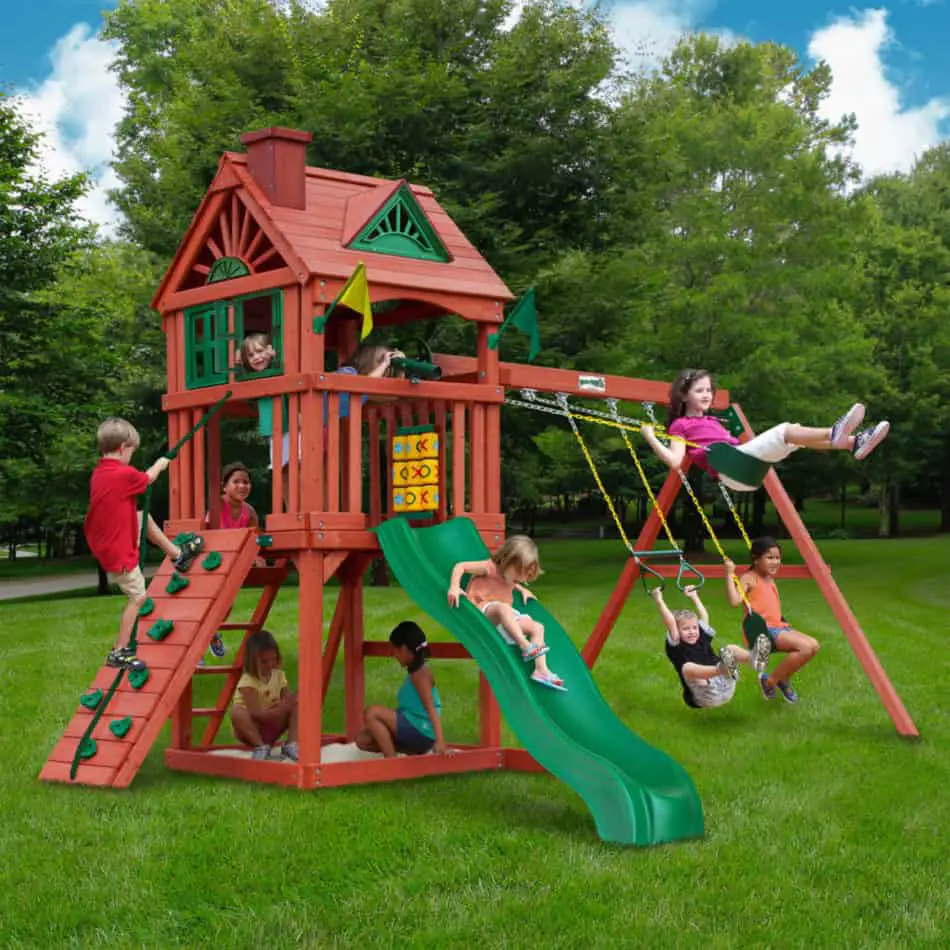 Alpine Wave Slide™
Upper-level Clubhouse featuring Two Windows with Real Working Shutters
Rock Wall with Climbing Rope
Safe Entry Ladder
Belt Swings – 2
Trapeze Swing
Built-In Sandbox Area
Tic-Tac-Toe Panel
Steering Wheel
Telescope
Gorilla Empire Extreme – $5849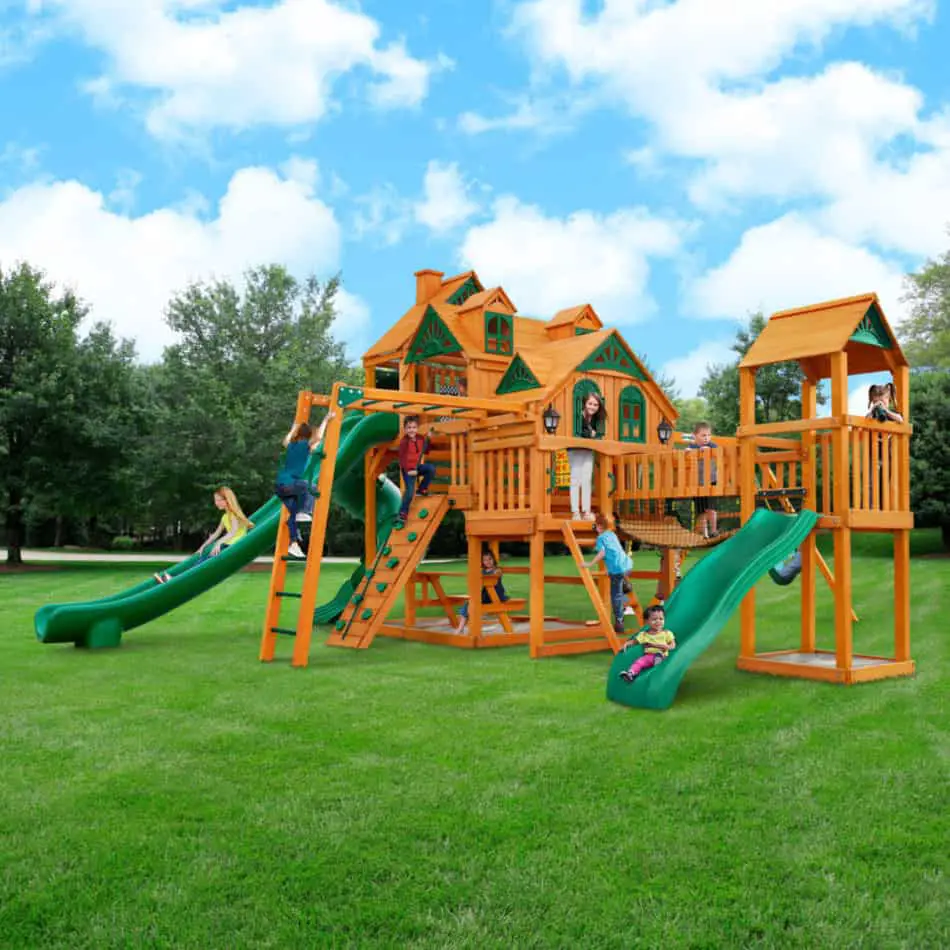 Alpine Wave Slide™
7' Turbo Tube Slide™
Commercial Grade 14' Super Scoop Slide™
Rock Wall w/ Climbing Rope
Monkey Bars w/ Heavy-Duty Metal Rungs
Clatter Bridge & Tower w/ Mesh Panels
Belt Swings – 2
Trapeze Swing
Built-In Picnic Table
Built-In Sandbox Area w/ Corner Seats
Bonus Sandbox Area under Tower
Tic-Tac-Toe Panel
Steering Wheel
Play Telescope
Jumbo Binoculars
Chalkboard Kit
As you can see, there is a huge difference between one of Gorillas entry level models and one of their flagship models. The prices for each, at the time of this writing are $1449 for the Nantucket and $5849 for the Empire Extreme.
The Nantucket is on the lower end in terms of price but it is one of Gorillas best selling models. The Empire Extreme is the most expensive one I was able to find and it comes with everything Gorilla has to offer. Both models are great choices, depending on your what you need in a playset.
However, if neither one of these options is a good fit for you, don't be discouraged. There are tons of in between models to choose from. Gorilla has a large selection of playsets to choose from in the $1500-$4000 range.
Safety & Construction
Obviously a huge concern for any parent is the safety of their children. We all know that there is potential for injury when playing on an outdoor playset or playground equipment, but to have a child get hurt as a result of poor workmanship, or inferior building components is simply unacceptable.
This is where Gorilla playsets really shine. They take the safety of your child seriously and they prove it by the way they design their playsets.
Each playset comes with integrated safety features such as flat, wide ladder steps, smooth edges on all wooden components, and grab handles where your kids will need them the most.
Their swing chains are covered in a soft plastic coating which prevents pinching and hair pulling. They're also rated to hold 800 pounds! This might sound a bit overkill but when it comes to your childs safety, is it?
The slides are self-reinforced for more strength and durability. No additional framing or bracing needed. They also feature higher sides, and wider landing beds for even more added safety. All Gorilla slides are constructed with built in UV protection to prevent them from fading over time.
All Gorilla playsets are built with choice grade Cedar which is naturally resistant to rot, decay, and insect damage. Its even sanded twice before it leaves to ensure its smooth and splinter free. The main swing beams are 4×6 instead of the traditional 4×4. This makes for a much stronger playset overall. Commercial grade hardware and heavy duty brackets are also used during construction.
As you can see, Gorilla puts a lot of effort into making their playsets as safe and durable as possible. All of their playsets meet or even exceed ASTM Safety Standards. When it comes to safety, there isn't a better name in the industry than Gorilla.

Gorilla Playsets & Accessories Weight Limits
One of the biggest concerns when buying a playset is the wight limit. If you have multiple kids playing at the same time, you want to be sure you're not exceeding the weight limit, right?
Here is a list of weight limits for all Gorilla playsets. They are the same no matter which model you choose.
Fort Platforms: 800 lbs. Total Weight
Swing Belts: 225 lbs.
Tandem Swings: 70 lbs. Per Child. Up to 140 lbs. Total Weight
Trapeze: 125 lbs.
Full & Half Bucket Swing: 50 lbs.
Heavy Duty Toddler Bucket Swing: 85 lbs.
Infant Swing: 35 lbs.
Tire Swing: 125 lbs. Total Weight
Roper Ladder: 75 lbs.
Rock Wall: 150 lbs.
Climbing Ramp: 150 lbs.
Monkey Bars: 175 lbs.
All Slides: 150 lbs.
Assembly Information
So you've got your Gorilla playset delivered. Now time for the fun part. Ok, lets be honest, its not fun at all. It actually kind of sucks. But the moment you see your kids smiling and having an awesome time, it'll all be worth it!
Each Gorilla playset will come with its own set of instructions. If, by chance, it didn't, you can always download another set or call and have another set sent to you. Of course, downloading them is always faster. If you're curious as to what the assembly instructions look like, here's the PDF download for the Gorilla Navigator Swing Set, just for reference.
Navigator Swing Set Assembly PDF
If you took the time to look at it, you can see that its very in depth. It walks you through the entire assembly process step by step.
For the most part, though, assembly isn't too hard, just time consuming. If you have a little patience and access to some basic tools you should be just fine.
Prior to Assembly
Now before you start assembling your playset your going to need to pick out a spot in your yard first. This is pretty straight forward but there are some things to consider first.
You're going to want to make sure that the place you have in mind is pretty level. Its not safe to install a playground on the side of a hill or mound in your yard. The spot you choose should be leveled within 3 inches. You should also be aware of any low hanging branches or power lines that could be in the way. Also be sure to check with your HOA to make sure a playset is compliant with their rules.
You're also going to want to take note of the advised safety parameter. ASTM (American Society for Testing & Materials) recommends at least a 6ft safety zone around the playset as well as 6ft overhead. Six feet is the minimum amount of space recommended, so if you have more to spare, even better!
What Tools Do You Need?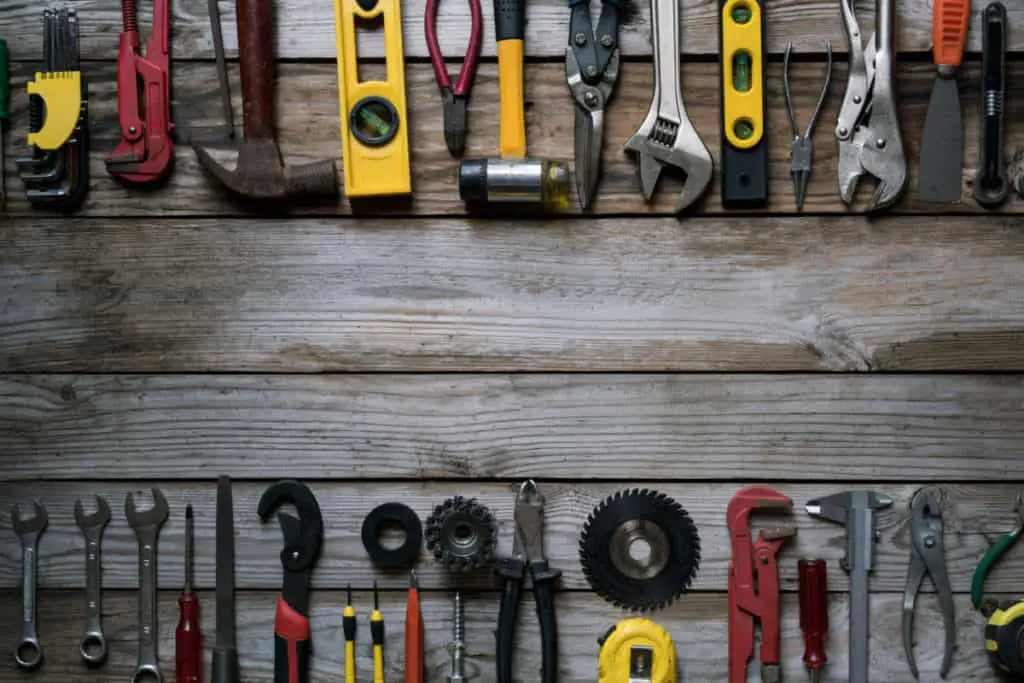 Putting together a playset is a lot like putting together anything else. As long as the instructions are pretty clear and you have the tools you need it isn't too awful difficult. Luckily Gorilla lets you know what tools you'll need in advance.
According to Gorilla, the only tools you will need to put your playset together are:
Standard or Cordless Drill with Phillips Bit
1/8", 1/4", and 7/16" Drill Bits
Extension Cord (if using standard drill)
1/2" & 9/16" Wrench or Socket
Tape Measure
Hammer
Pencil
Level
Thats it! One would think it would take a lot more to put one of these together but Gorilla has done a great job in making the assembly as easy as possible.
How Long Will It Take?
Gorilla states that their playsets take on average 70% less time to assemble than their competitors. This is mainly because all of the lumber is pre-cut, pre-drilled, pre-sanded, and pre-stained. Doing all of this yourself would be a huge time suck!
So how long does it actually take? Lets take a look.
The time it takes to assemble your Gorilla playset will vary…drastically. Lets look again at the Gorilla Nantucket and the Empire Extreme. On average the Nantucket takes 6-8 hours to assemble while the Empire Extreme takes 22-26 hours.
Again, the Nantucket is quite a bit smaller and has nowhere near the amount of parts that need to be assembled while the Empire Extreme is pretty much as big as they come.
Depending on which model you select, you can expect assembly to take anywhere from 6-26 hours to assemble with two people. If the job is too much for you to handle, it may be a good idea to hire someone instead. You may have to shell out a few hundred dollars for this service but it will save you a lot of time and potential frustration.
How Long Do Gorilla Playsets Last?
A big question that lots of people have when looking to buy a Gorilla playset, or any playset for that matter is: "How long will it last?"
Of course, if your spending over $1000 on a playset you want it to last for a long time!
As mentioned earlier, all Gorilla playsets are made from Cedar. Cedar is largely considered to be the best type of wood for playsets, swing sets, fence posts, decking, etc., because its naturally resistant to the elements.
However, this doesn't mean that it will last forever. And neither will the other components on a Gorilla playset.
On average, you can expect your Gorilla playset to last for 10-20 years. Now this is, of course, an average, and can vary greatly depending on the conditions of where you live, upkeep, how much it gets used, etc.
There are a lot of things that can affect how long your Gorilla playset will last but taking the time to do some routine maintenance will go a long way towards getting the most out of it.
Its recommended that you inspect your playset at least once a year and replace any parts that are damaged or missing. Tighten up any loose bolts as well. You should also re-stain your playset as needed. This could be anywhere from every 1-5 years, depending on the type of stain you use. Gorilla playsets do come pre-stained but, of course, this wont last forever.
Cleaning and staining your wooden playset is the only way to keep it protected from the suns harmful UV rays which often cause wood to dry out and warp. This is an essential step for getting the most out of your Gorilla playset.
Are Gorilla Playsets Made in the USA?
Gorilla playsets are made with both domestic and imported components. The slides are various pieces of hardware are made in the US while the cedar lumber, swings, various plastic items, and some hardware come from China.
That Gorilla playsets are not completely made in the US shouldn't be a big turnoff. As we've already discussed, Gorilla playsets are built to last and meet/exceed ASTM Safety Standards. Couple this with their amazing warranty (we'll cover this next) and awesome customer service and you can rest easy knowing you're buying a high quality playset for your kids.

Do Gorilla Playsets Come With a Warranty?
If you're about to drop a whole month's worth of savings on a playset it better come with a warranty!
All Gorilla playsets come with a 10 year warranty on wooden components and a 1 year warranty on accessories. Considering that 90% or more of the playset is wood, I'd say its a pretty good warranty!
In the event that you have an issue with your playset within the warranty period, simply contact Gorilla and they'll repair or replace any defective parts! Hows that for peace of mind?
Best Place to Buy a Gorilla Playset
If you've made it this far in the review, you're probably wondering by now where is the best place to buy a Gorilla playset from.
There are lots of places online where you can buy a Gorilla playset including Amazon and directly from Gorilla. Both of these are great options and I doubt you would have any trouble buying from either one. Gorilla also has authorized online retailers that sell their playsets as well.
If you're interested in buying a Gorilla playset, or just want to see them all for yourself, head on over to the Gorilla Playsets website. Alternatively, you can check them out here on Amazon.
Which Gorilla Playset Is Right For You?
Answering this question can be a bit tricky. It really all depends on how much you're willing to spend and what exactly you need/want in a playset.
We've already looked at the entry level and high end playsets from Gorilla to help give you an idea of whats available. However, there are tons of different models to choose from to help fit any budget and any need.
One such model is the Gorilla Five Star ll Space Saver. As you can probably gather from its name, its a space saver model designed specifically for small backyards.
Lets take a look at some pics and its list of play features!
Gorilla Five Star ll Space Saver – $1549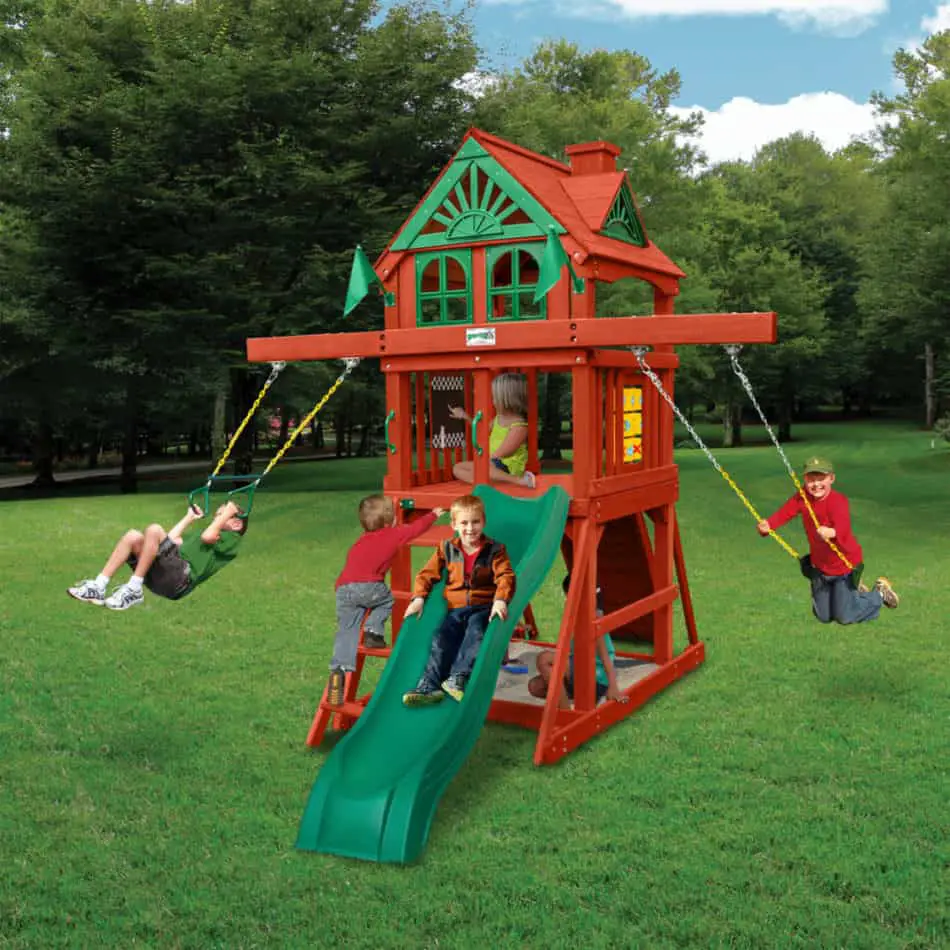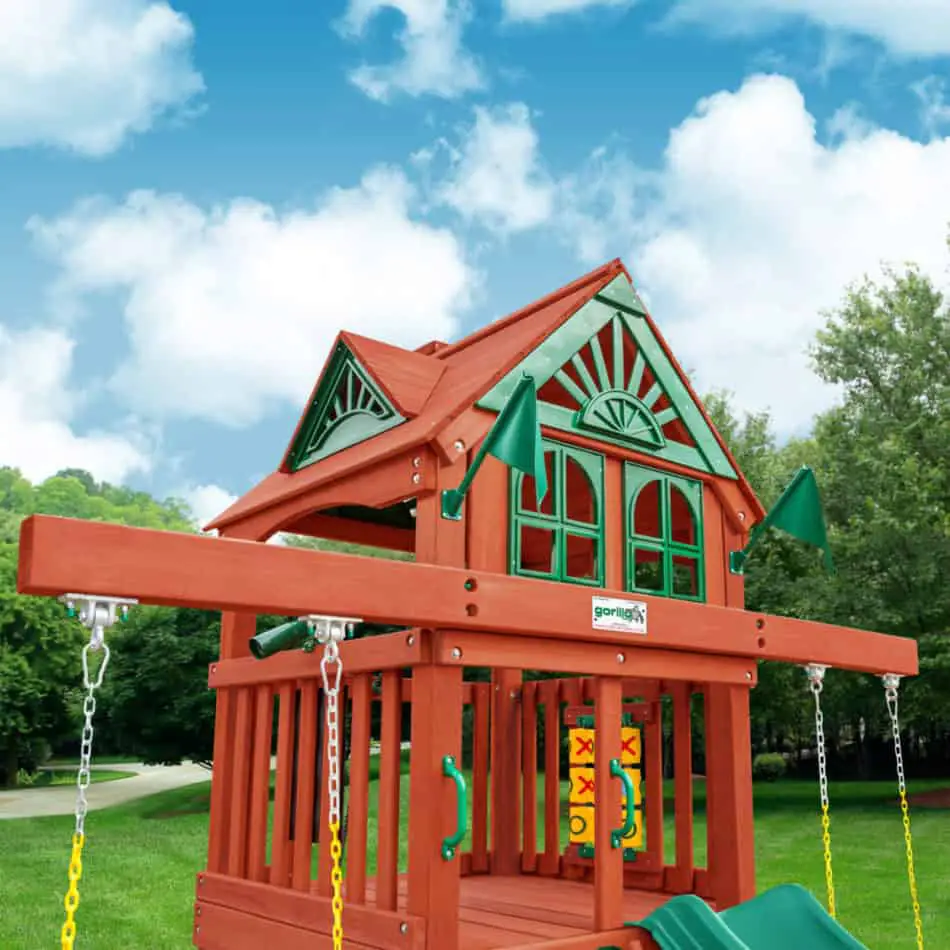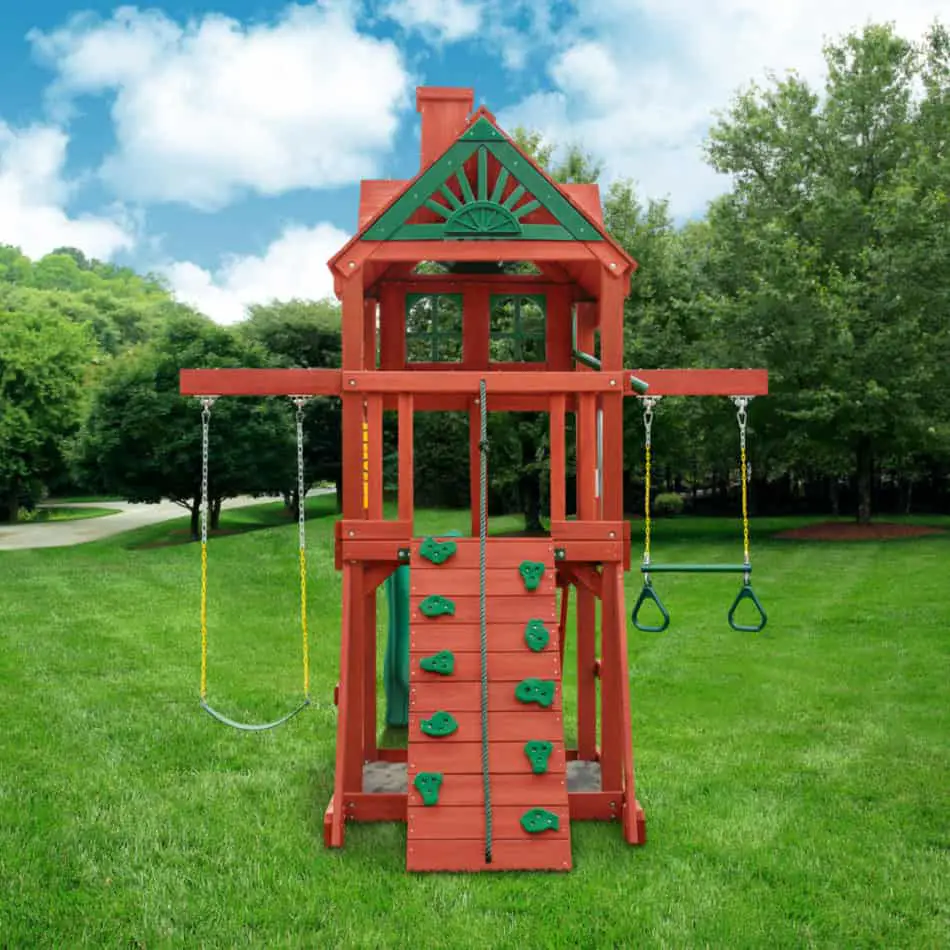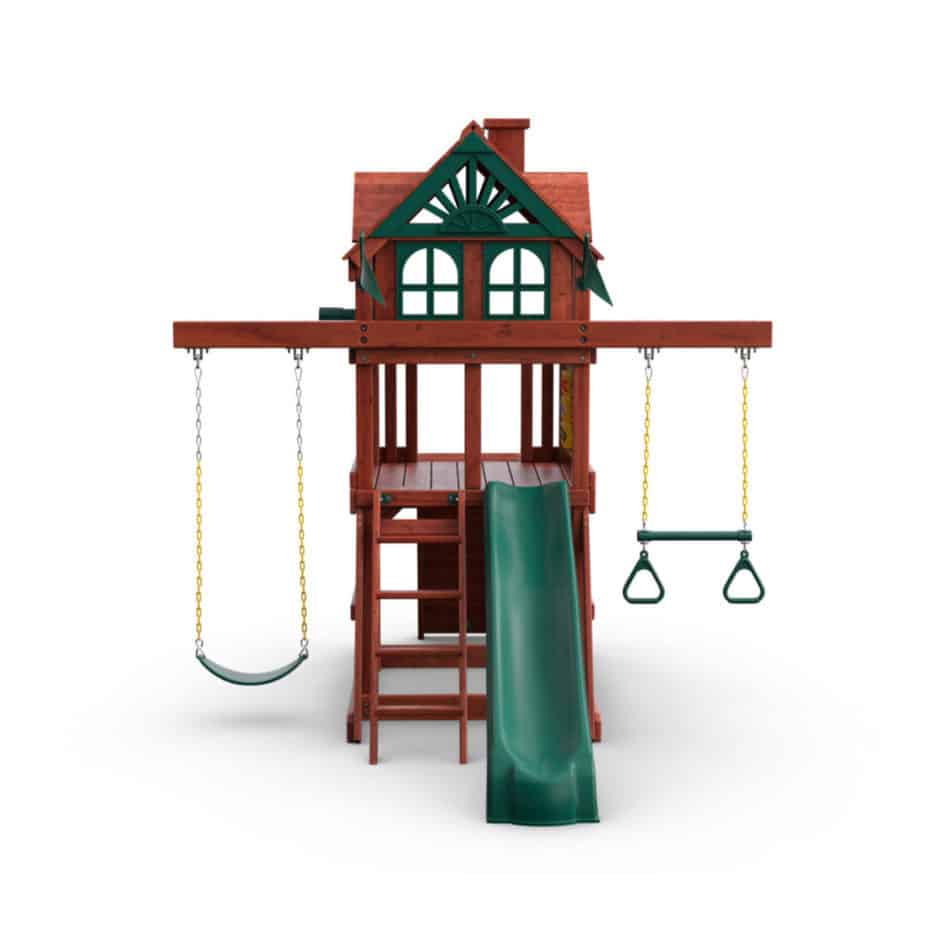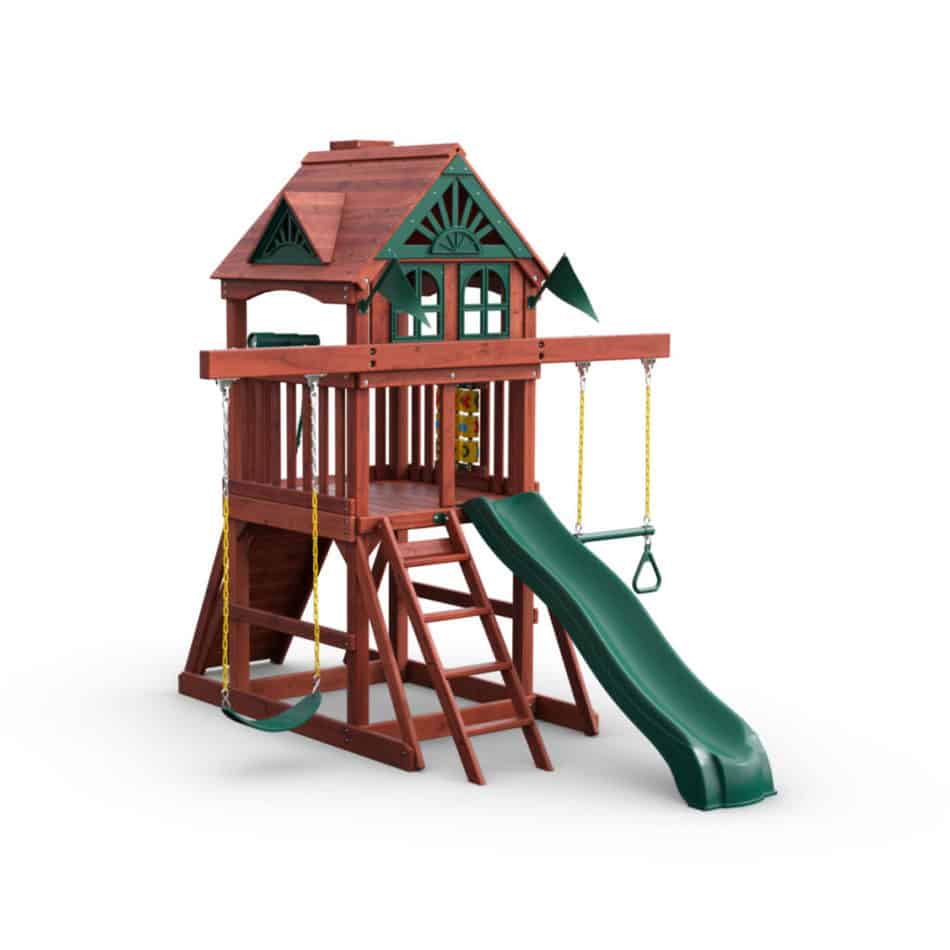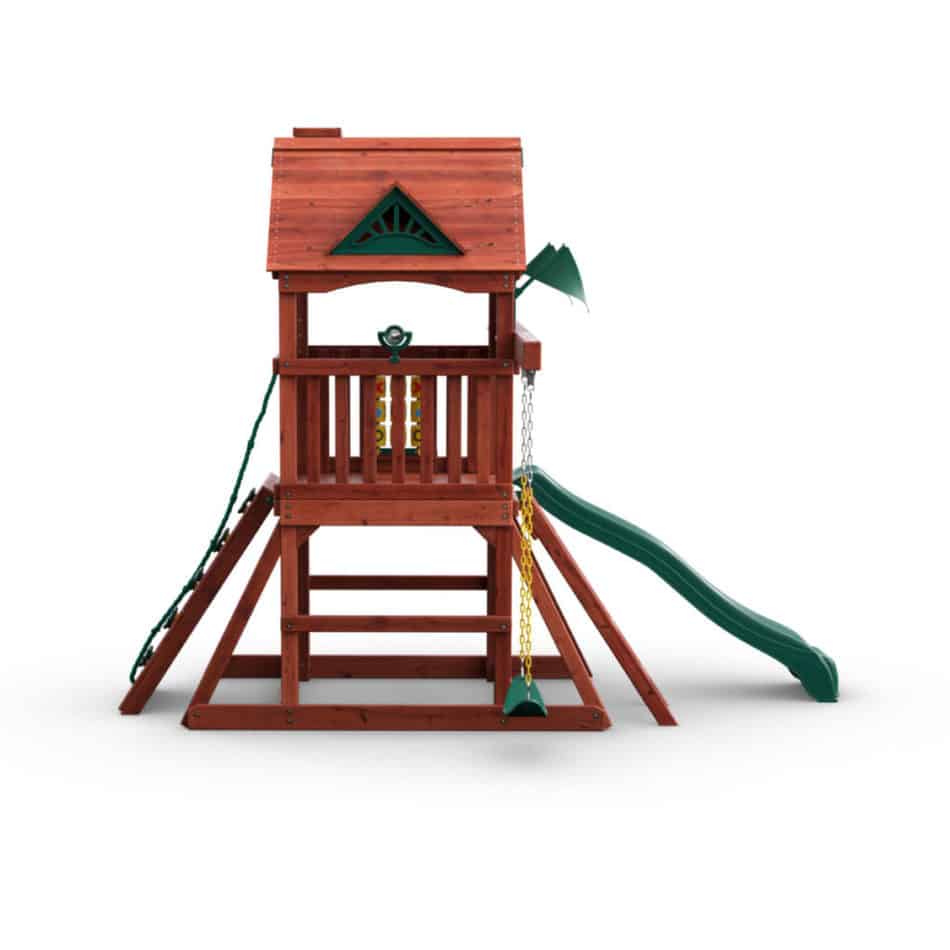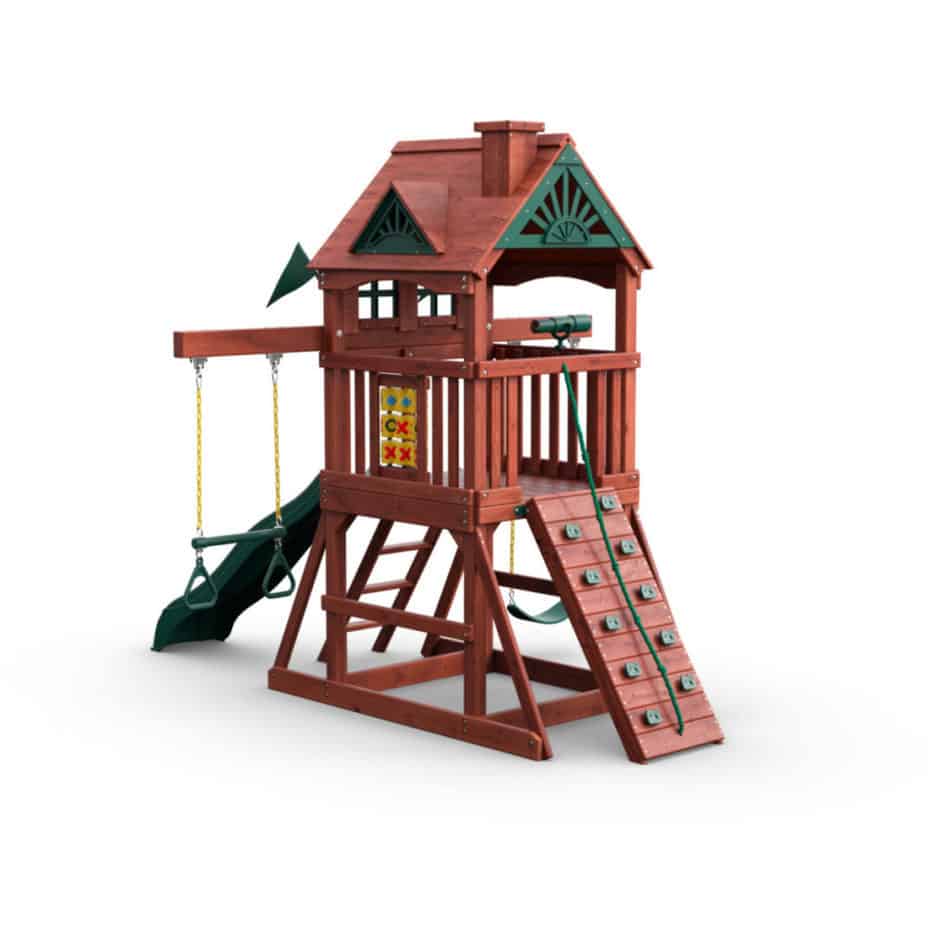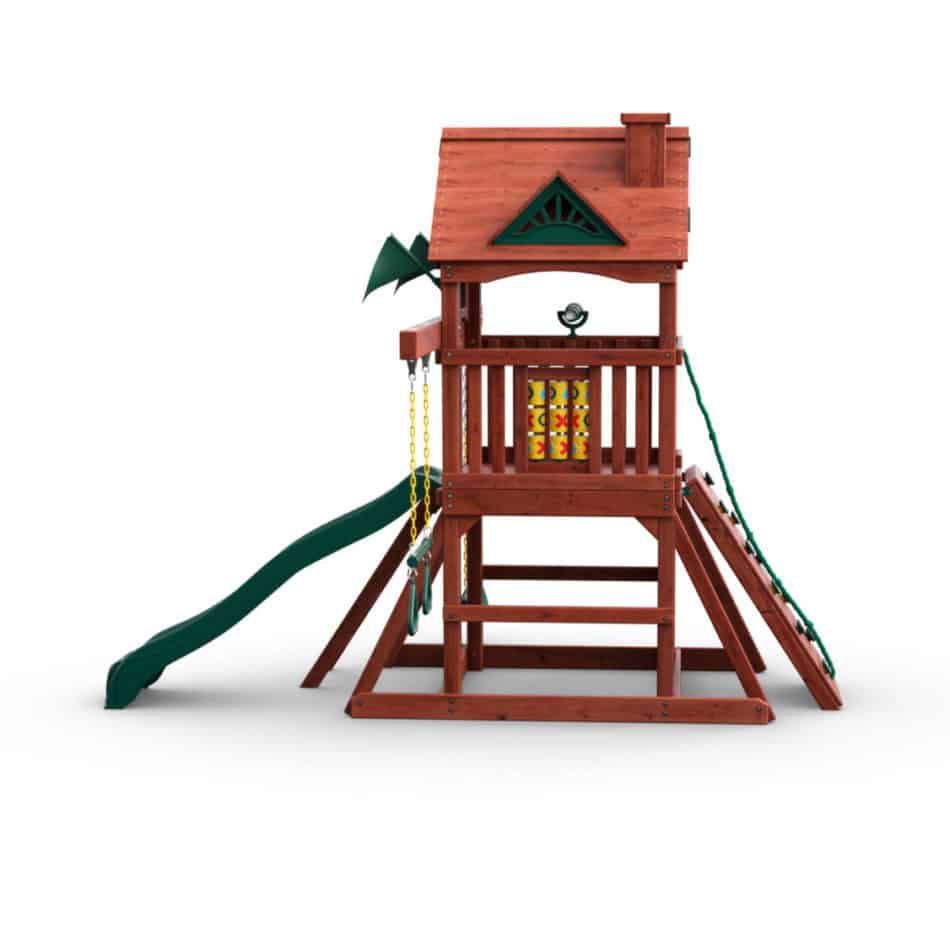 Features
Alpine Wave Slide™
Rock Wall with Climbing Rope
Belt Swings – 2
Built-In Sandbox Area
Tic-Tac-Toe Panel
Chalkboard Kit
Steering Wheel
Play Telescope
Flag Kit
Tongue & Groove Wood Roof Featuring Sunbursts, Dormers, and a Chimney
Roof also features Custom Design Patterns of Stars, Crescents, and Diamonds
4×4 Natural Cedar Posts & Main Beams
4×6 2-Position Swing Beam
Grab Handles
Safe Entry Ladder
Semi-Enclosed Clubhouse with Decorative Window Inserts
Cedar with a beautiful Redwood Finish
Now not everyone will need a playset for a small backyard, and that's completely ok! Here are some more pics of some of the various different models that Gorilla has to offer.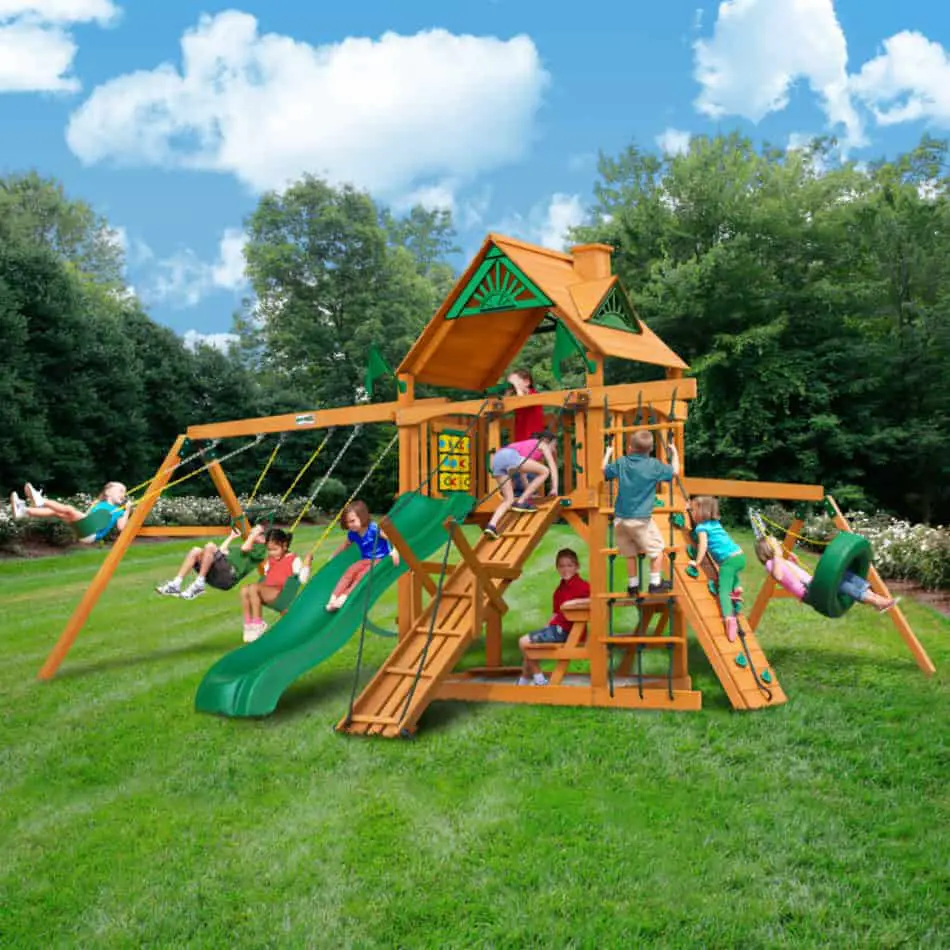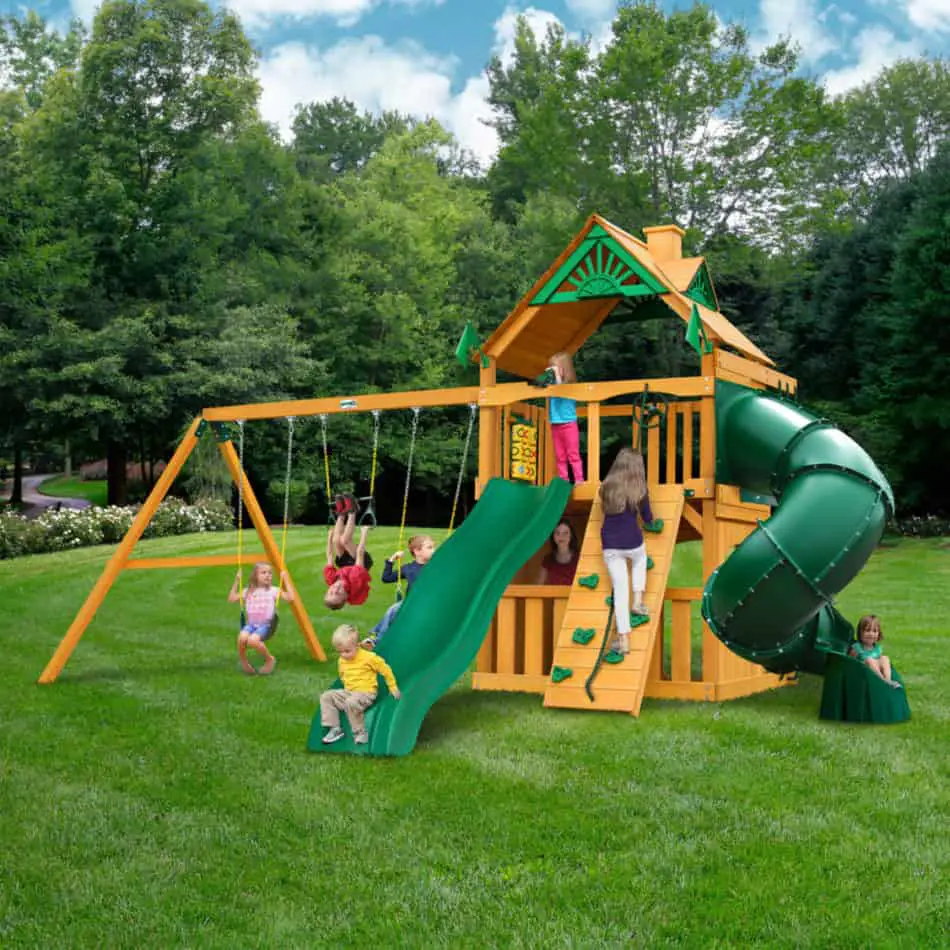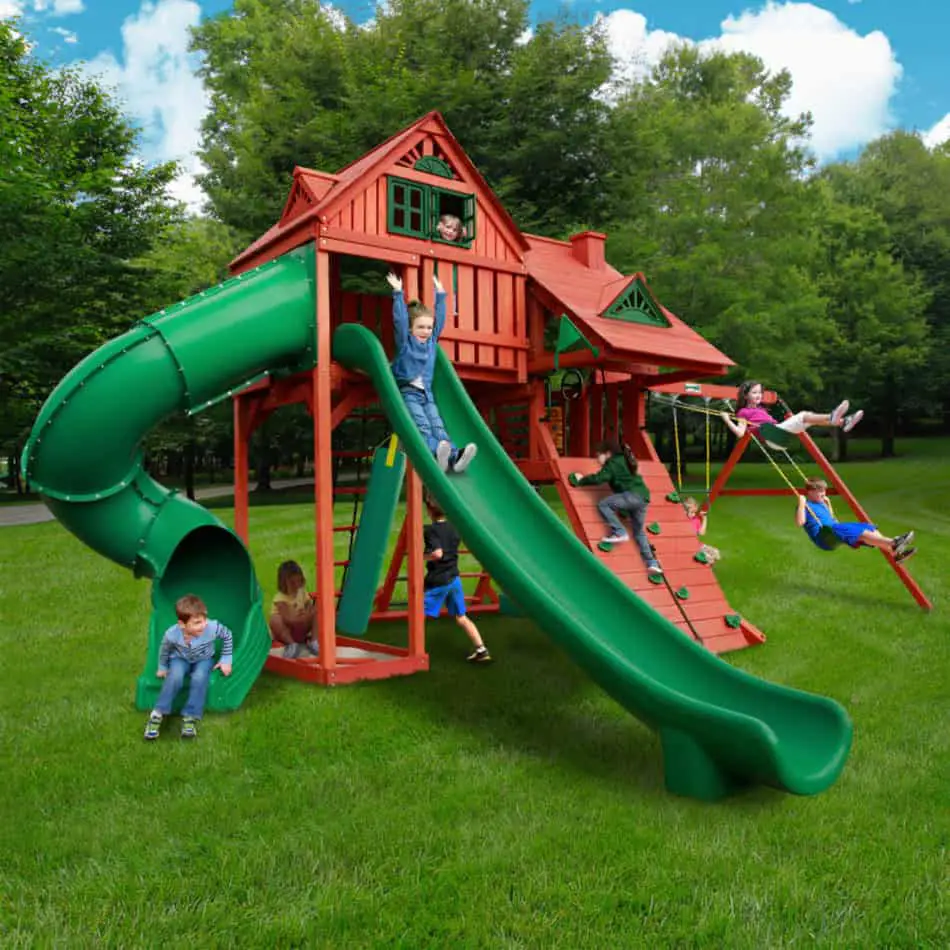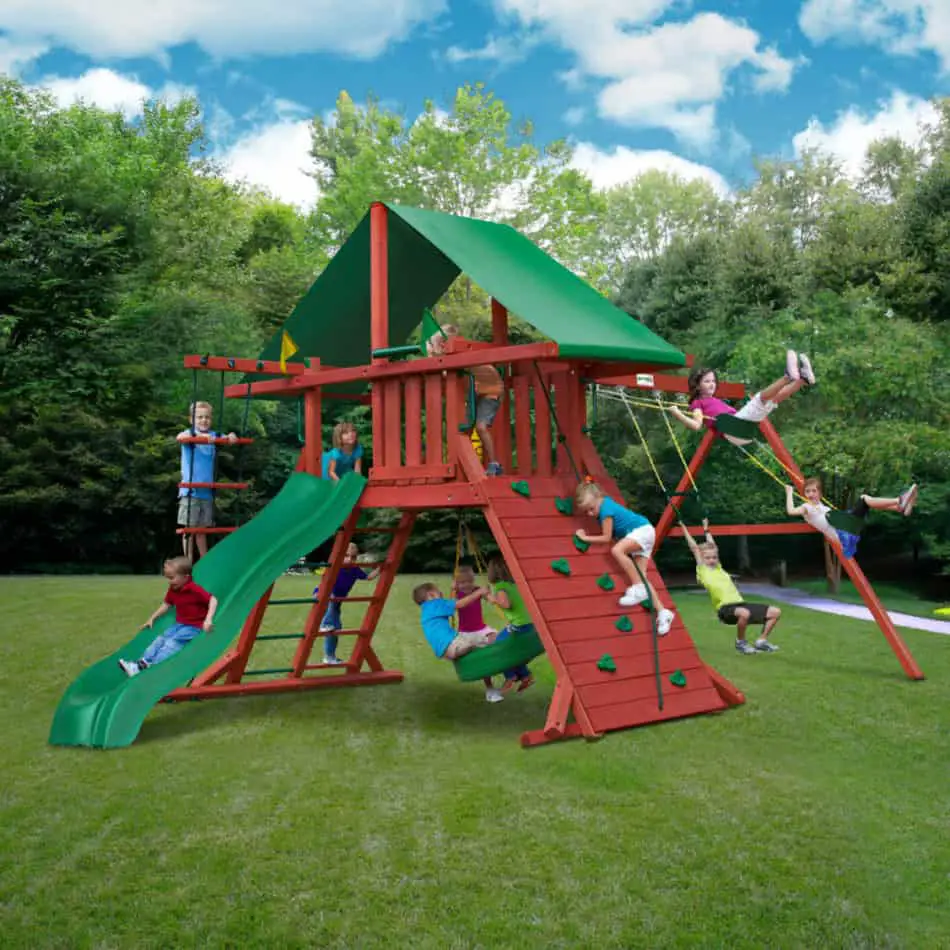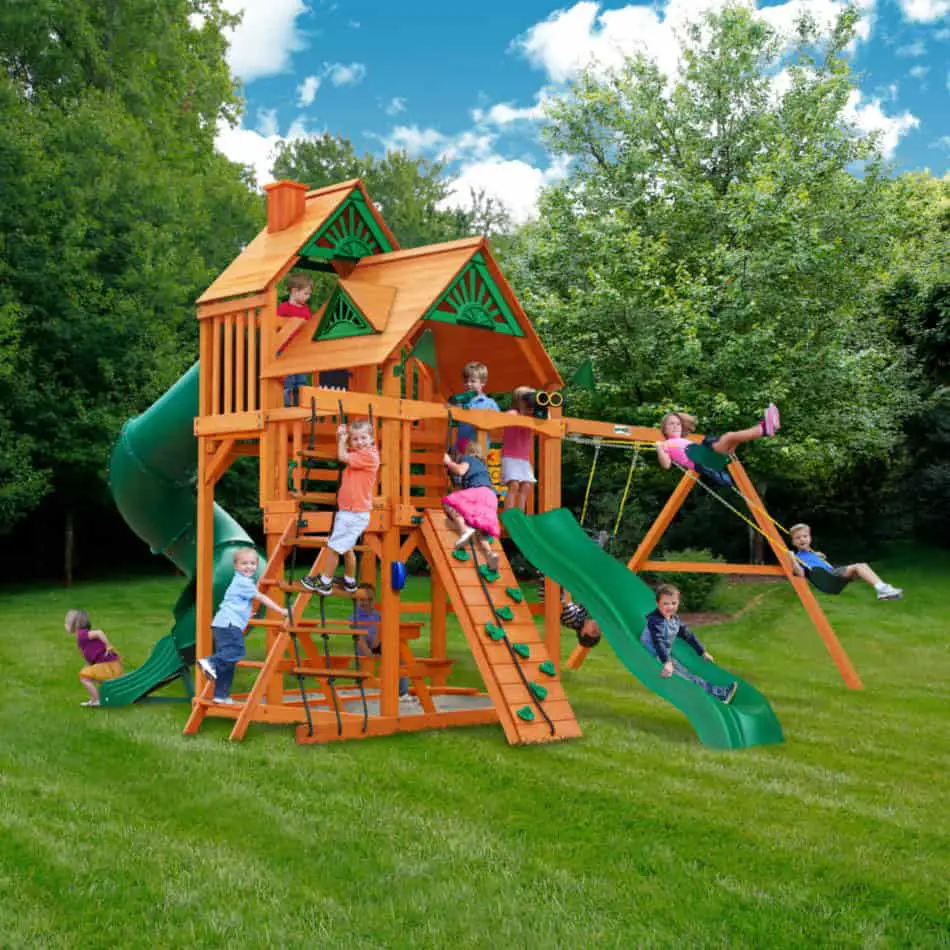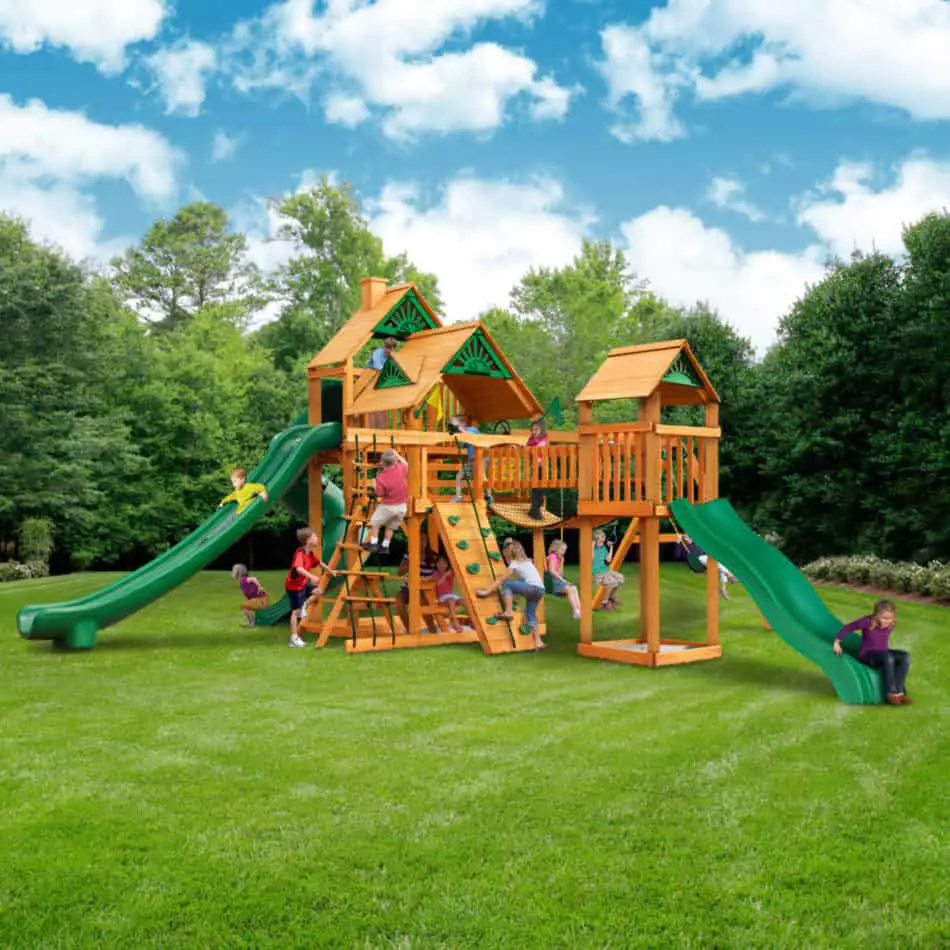 As you can see, there are lots of different options to choose from and each playset has its own style and uniqueness. Any of these would make a great choice for your little one(s) and you can rest assured knowing that if you buy a Gorilla playset, you bought one of the safest in the industry.
Pros and Cons of Gorilla Playsets
There are lots of things to like about Gorilla Playsets. They do a lot of things very well. But, as with everything, it can't all be good right. Lets take a quick look at some of the things I like about Gorilla and some of the things I don't.
All in all, the good definitely outweighs the bad. Most of the cons on the list aren't typically deal breakers for most people with the exception of maybe the price. But you have to keep in mind what you're buying. A great outdoor playset thats safe, high quality, and built to last just isn't going to be but so cheap. It cant be.
In Conclusion
I hope by now we've been able to answer the question we started with at the beginning of the review: "Are Gorilla playsets worth it?"
The short answer, in my opinion, is yes. Gorilla playsets are worth it if you want the safest, most well built playset designed for residential use. They are a bit pricier than some of their competition but in my eyes, the price is well justified.
The overall design of their products, coupled with the built in safety features and amazing warranty proves to me that Gorilla stands by their products and are worthy of being known as an industry leader.
I hope this article has been helpful and that now you can make an informed decision about whether or not a Gorilla playset is right for you. Definitely check out gorillaplaysets.com or Amazon for more info on Gorilla playsets and accessories. Thanks for reading!