As the days get shorter and the weather begins to cool, you may be thinking about ways to continue spending time outdoors. The fall foliage and the brisk breezes that send leaves scattering come together to provide a different sort of beauty from the spring and summer months. The only problem is that it gets a little too chilly on the patio to sit outside and enjoy the sights. Luckily, there are quite a few ways to bring some warmth to any outdoor space. Read on and I'll answer the question: What's the best way to heat an outdoor patio?
Stand-Up Patio Heaters For Ultimate Comfort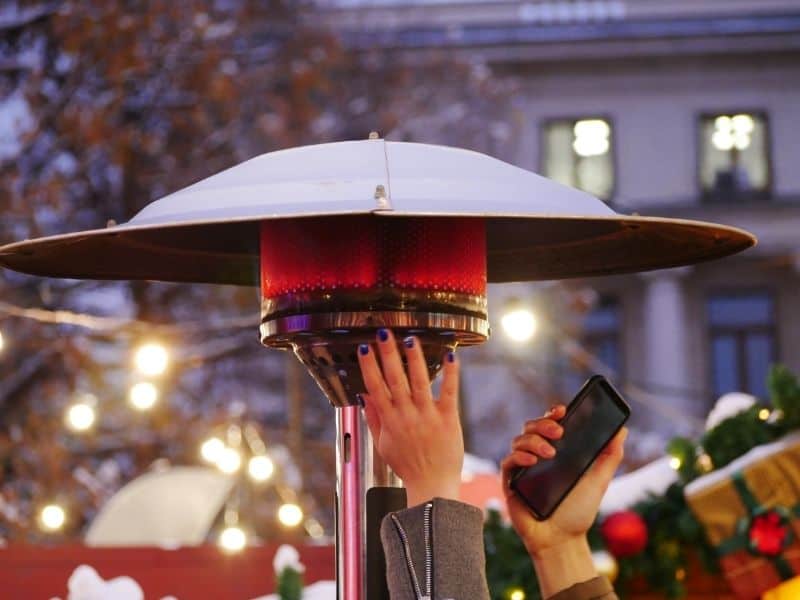 Patio heaters come in all shapes and sizes but the most popular by far are the propane-powered stand-up heaters you've probably seen on the patio of a bar or restaurant. They are generally made cylindrical and made out of metal with the heater located at the top at about head level. These heaters are capable of putting out a lot of heat, meaning one or two should do the trick for most patios. 
However, not all propane heaters are designed for use underneath an awning. If you have a covered patio, make sure the one you get is safe to use. Usually there's a minimum clearance height for safe heating. 
Check out this top-rated propane patio heater for your backyard. 
Fire Pits and Fire Features Brighten The Winter Gloom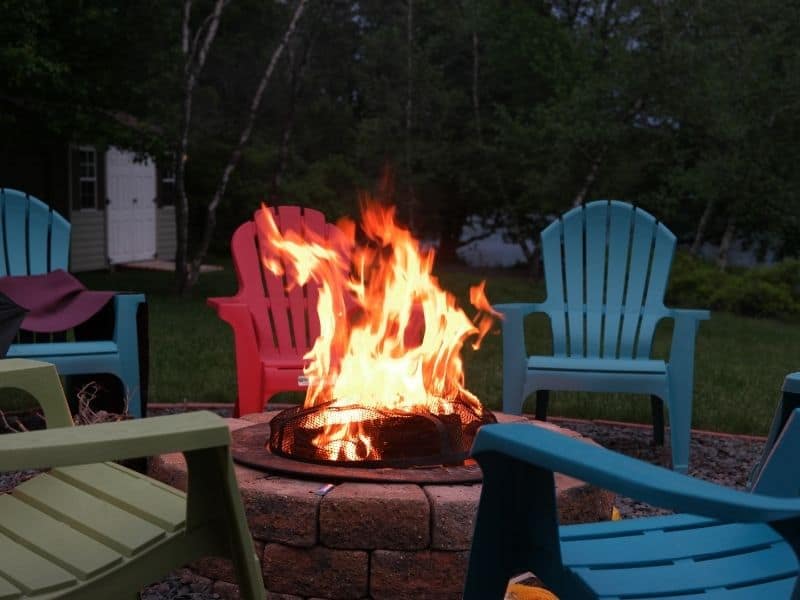 Fire pits and fire features (also known as fire tables) are two very different things, even though they may look similar.
Fire Pits
One of the most popular ways to heat an outdoor patio is with a good, old-fashioned fire pit. Burning seasoned wood can heat the outdoor space up quickly, and you can change the temperature simply by changing how much wood you burn. But, most metropolitan areas have limits or outright bans on burning wood, so it's best to check your local laws. 
And again, if you have a covered patio, you probably shouldn't burn wood underneath it. Some folks say that it's okay to do as long as the ceiling is high enough, but others suggest you shouldn't do it at all. It's up to you to decide which is safe for your home. Of course, you can always check out my article on fire pit safety for more information.
Here's a great portable wood-burning fire pit option to consider!
Fire Features
While wood-burning fire pits have been around since humankind discovered fire, fire features are a relatively recent invention. They aren't capable of giving off as much heat as a woodfire, but they can definitely provide some warmth to your patio. And the best part is that most of them are completely safe to use under a covered patio. 
Since they use propane or natural gas for fuel, there usually aren't any restrictions or bans. However, before you get one make sure that it's rated for use under a covered patio (if you have one) and that there are no local laws against them.
With a fire table you get heat and flame without the hassle of buying or chopping firewood and without the risk of embers starting a wildfire. For many, it's the best of both worlds! Take a look at a best-selling propane fire table here. 
Electric Heaters for Easy Mounting and Heat
Electric heaters are increasingly popular— especially the ones that use infrared technology to deliver radiant heat. Most older electric space heaters heat the air and use a fan to move that warm air around— a process called convection. Heating the air inside is all fine and good, but if you're trying to maintain warmth outside, it's not nearly as effective. Enter infrared heaters. They still run off of electricity, but they generate more heat than their convective counterparts. 
You can mount these electric heaters around your patio, providing warmth all around. If you're worried about the environmental impact, these new infrared heaters are generally much more energy-efficient than other electric outdoor heaters.
Click the link to check out a surprisingly affordable infrared heater. 
Outdoor Fireplaces for Hearth and Home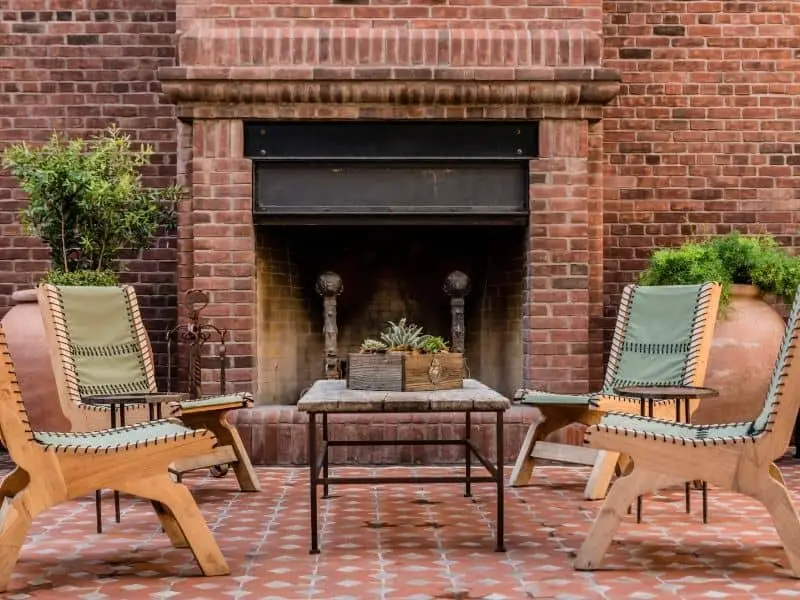 When we think of fireplaces, we usually picture them inside the house. But this doesn't have to be the case. You can have an outdoor fireplace built to provide warmth and add a little flair to your backyard. Like fire pits, you should check your local laws before installing one because many places have burn bans in place much or all of the year. 
If you're in the clear, you can enjoy a fireplace while simultaneously enjoying the beautiful fall and winter weather. Most outdoor fireplaces look similar to those found indoors, with the marked difference of a much shorter chimney. The only bad thing about an outdoor fireplace is the possibility of confusing Santa on Christmas Eve. 
Curtains or Shades Keep The Heat In
For those with a covered patio, the addition of shades or patio curtains can work surprisingly well for keeping the heat in. Not only can they help block the breeze but they can also provide a barrier to keep the heat in if you're using an electric heater on the patio. In the warmer months, they can provide shade from the sun and a nice cool place to relax.
Note: Never use curtains or shades if you're using a gas or wood heater. The fumes and/or smoke can become trapped inside, causing dangerous levels of carbon monoxide. 
Heated Floors for Warm Patios
For those homeowners who want to go all-out, heated floors are a great option. These heating systems need to be installed by a professional and are by far the most expensive option on this list, but they can be great for heating an outdoor patio. These systems can be installed under almost any type of flooring. They use radiant heat to warm up the flooring, which in turn can warm you up. They're also often used to keep snow and ice off of outdoor surfaces. 
Chimineas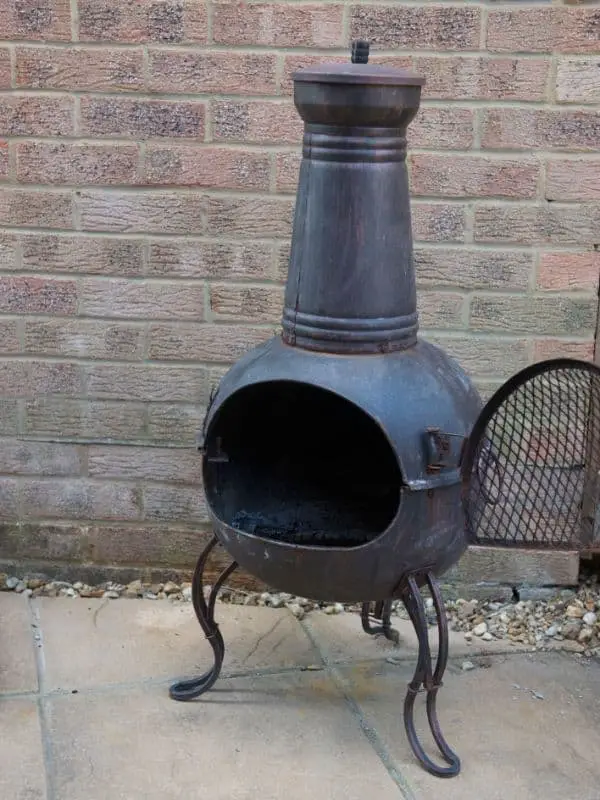 Chimineas are small, wood-burning portable fireplaces. They're traditionally made out of clay but you can find them made out of metal, too. They have a short chimney and a rounded body with a wide mouth to feed wood through. The size of chiminea limits the amount of heat it can give off, but with a chimney extension you can place one of these under your covered patio without worrying about smoke buildup. 
Chimineas that also double as grills are also available. You can grill in the summer and keep warm in the winter with one of these portable fireplaces. As always, check local laws to make sure you can burn wood in your area. Check out a popular metal chiminea here. 
Blow-Up Hot Tub to Soak Up the Heat
If you want to enjoy the chilly weather from the comfort of a hot tub, you don't have to spend thousands of dollars to do it. Instead, you can purchase a blow-up hot tub. It comes with everything you need (except for the water, of course) to enjoy a nice long soak in rain, shine, or snow. When you're done with it, simply deflate it and put it away until you want to use it again. 
Rugs, Blankets, and Pillows
Finally, making a warm and cozy outdoor space can be as easy as setting some blankets, rugs, and pillows out. Rugs can help insulate you from cold flooring while blankets and pillows can trap your body heat and make you comfortable. This option probably isn't best for those places that get very cold in the winter, but it can be good for those areas that experience mild winters. 
So, What's the Best Way to Heat an Outdoor Patio?
I'll leave it up to you to decide which way is best for you. After all, it depends on your particular tastes, how cold it gets where you live, and how your outdoor space is designed. Any one of the options above can work to add a little warmth and comfort to your patio during the chilly winter months.