Whether you realize it or not, pergolas are everywhere these days. Chances are you've seen one very recently. They have many uses and nearly endless designs, making them ideal for both residential and commercial use. Many hotels and resorts have pergolas poolside for a bit of shade. Parks often employ pergolas for aesthetics. Restaurants or lounges with outdoor seating use pergolas often for both design, shade, and even protection from the weather. 
The fact is that pergolas are a popular choice because of their style and functionality. But a pergola isn't for everyone. They do require some planning, care, and investment. Plus, they're simply not to everyone's taste. This is why we've created the ultimate pergola guide with everything you need to know. So, read on to find out if a pergola is right for you. 
What is a Pergola?
A pergola is an outdoor structure typically made with two or four support columns and an open overhead latticework. They can be attached to an existing structure (two support columns), or freestanding (four columns). They come in many different sizes and are often placed in gardens, over sitting areas, and occasionally over walkways. 
A Bit of Pergola History
It's thought that pergolas were in use as far back as Ancient Egyptian times. The term pergola is Latin in origin, referring to projecting or extending eaves. Pergolas were most likely used for growing grapes, but they may have been attractive in design, as well. 
What's the Point of Having a Pergola?
Since the tops of pergolas are open, you may wonder what the point is. After all, they're not like an awning or a gazebo, both of which provide some protection from the elements. However, the point of having a pergola will ultimately come down to you. There are many uses for pergolas, but not everyone will see the appeal of these popular structures. To help you decide, we've included several of the most common pergola uses. 
Pergolas Provide Shade
Even though pergolas generally have holes in the top, they do provide some shade. How much shade depends on the design, placement, and accessories of the particular pergola. With a little forethought and a few adjustments, you can have as much or as little shade as you would like. For a more in-depth look at how pergolas provide shade, check out this article. 
Pergolas Provide Character
Many people decide to build a pergola in their yard because it adds character. It can be that extra something that brings the yard, garden, or patio together, providing a focal point and a dash of design that can wow your visitors. Since there are so many design options, you can almost always get something that fits your aesthetic. 
Pergolas Provide Space for Plants
For those who want a little more plant life in their yard, a pergola is a great addition. You can train vines to grow up and over the top of your pergola. Depending on the kind of plant or plants you choose you can enjoy colorful and sweet-smelling blossoms and the added shade that the vines will create overhead.
But vines aren't the only plants you can use with a pergola. The latticework structure is ideal for hanging plants. Sunlight can stream through the holes, providing your potted plants with enough sunlight to thrive while simultaneously giving you a nice shady spot to relax. 
Pergolas Can Add Value to Your Home
It's true. Pergolas can add value to your home. However, this is not a guarantee. The amount of value a pergola can add is dependent on many things. We'll discuss this in more detail below, but it's worth mentioning here because it is entirely possible. 
Pergolas Provide a Place for Outdoor Entertaining
Since pergolas can provide shade and an attractive focal point, they are ideal for outdoor entertaining. Whether you put an outdoor dining table under the pergola for dinner parties, outdoor lounging furniture for visiting, a hot tub for relaxing, or sunbathing chairs for drying off out of the pool, pergolas make great outdoor spaces for residents and guests alike.
Pergola Materials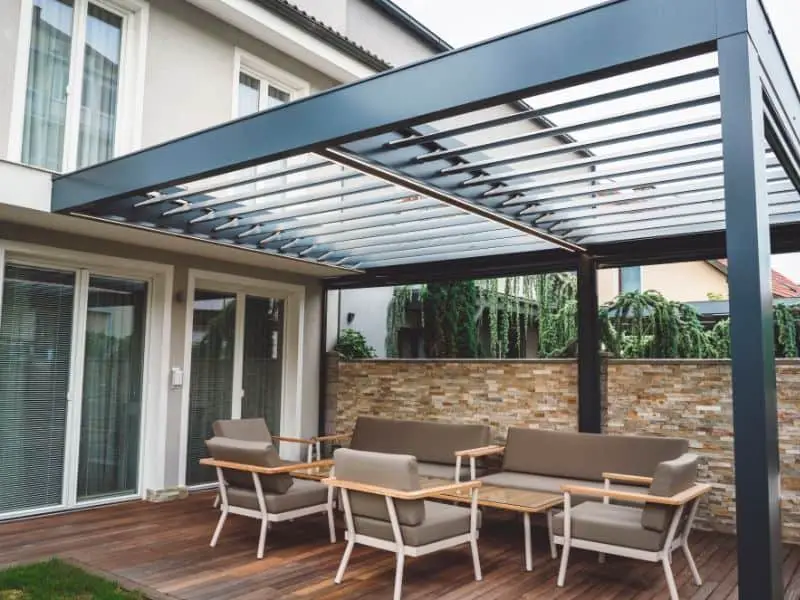 These days pergolas are made from pretty much any material you can think of. We'll go over the most common options below.
Wooden Pergolas
The most popular and cost-effective, wooden pergolas are a favorite because they blend in well with the outdoors. There are many different kinds of wood available, all across the price spectrum. Cedar is popular because it's rot and insect-resistant. Redwood is another popular and beautiful choice. Pressure-treated lumber is inexpensive but is more prone to rot and insects than more expensive hardwood options. 
Vinyl Pergolas
Vinyl is another cost-effective option. If you get a pergola made of high-quality vinyl it can last for many years with little maintenance. However, since vinyl is somewhat flimsy by itself, most pergolas made out of this synthetic material have some sort of metal support structure inside that can become rusty over time if it's exposed to the elements. This is why it's important to inspect your vinyl pergola on occasion for brittle patches or cracks. 
Vinyl pergolas also come with limited color options; usually just white or a white variant.
Aluminum Pergolas
Powder-coated aluminum pergolas are a favorite for several reasons. They don't rust, they're lightweight, and the powder-coating comes in many different colors and styles. Some companies even offer a wood grain look on their aluminum pergolas. Aluminum is fairly expensive when compared to vinyl or wood, but it holds up well in most areas. However, in places with high winds, aluminum may bend or warp, although this isn't terribly common. 
Fiberglass Pergolas
Fiberglass is strong and lightweight, making it ideal for large pergolas. It's one of the most expensive options, but well-made fiberglass pergolas can last a very long time with little maintenance. You can customize its colors and it's also easy to install electronic accessories as the fiberglass structure is typically hollow.
Other Materials
The materials listed above are the most common, but you can also construct pergolas out of steel, stone, concrete, and PVC. What material you use depends largely on what you want to accomplish with the pergola in regards to style and aesthetics. 
Common Pergola Sizes
Pergolas come in many different sizes. You can get a square pergola, but it seems that rectangular ones are more popular these days. Here are some common sizes for each.
Square
10'x10'

For two chairs, a grill, or a two-person dining table.

12'x12'

For a square or round four-person dining table.
Rectangular
10'x14'

For a medium-sized dining table or a few lounge chairs. 

12'x16'

Good for a large dining table, several lounge chairs, couches. 

16'x20'

You can put multiple dining tables, couches, or lounge chairs under this large pergola.
These aren't the only sizes available. If you're having your pergola custom-built, chances are they can do pretty much any size you want, within reason. You can do a square one as small as 8'x8' or a large rectangle as large as 20'x20'. It all depends on what you want and how much you're willing to spend. 
Pergola Maintenance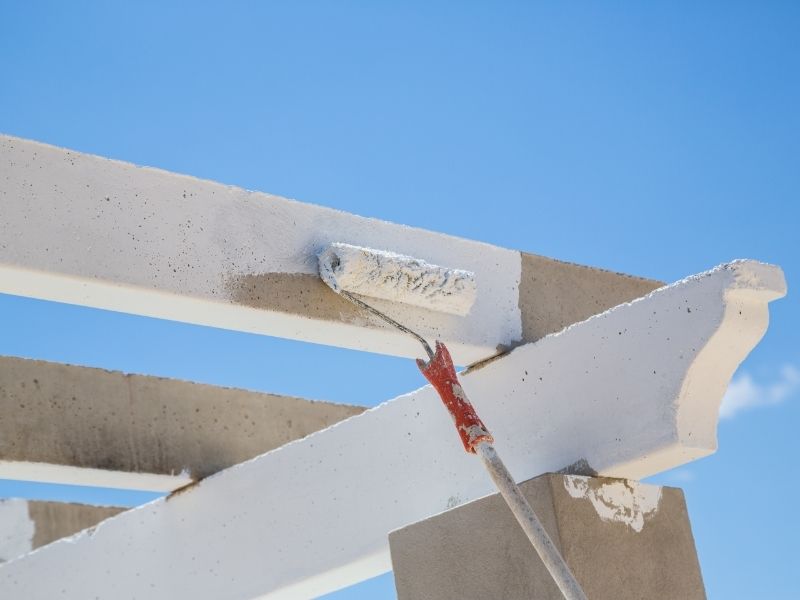 It's nearly impossible to get a pergola that requires zero maintenance. Exactly how much and how often your pergola requires maintenance will depend on what you are using it for, the weather in your area, and the material it's made out of. 
Wood Pergola Maintenance
As you can imagine, wooden pergolas require the most care. Since wood is the most susceptible to rot and insects you'll want to re-stain it every 1 to 2 years for best results. It's also a good idea to clean your pergola before re-staining it.
Vinyl Pergola Maintenance
As mentioned above, vinyl pergolas should be inspected for cracks and brittle areas every 2 to 3 years. Unfortunately, repairing vinyl isn't usually a seamless process. Since you can't paint over vinyl, any repairs done are usually very visible to the naked eye. 
It's also a good idea to clean your vinyl pergola and inspect any hardware once a year. 
Aluminum Pergola Maintenance
Aluminum holds up very well, and only requires cleaning and hardware inspection once a year. Although you can probably get away with inspecting the hardware for loose fittings every 2 years or so. Make sure to use a non-toxic cleaner. 
Fiberglass Pergola Maintenance
Fiberglass and aluminum generally require the same amount of care: clean and inspect once a year. Make sure to use a non-toxic cleaner. 
Do Pergolas Add Value to Your Home?
The biggest factors influencing the amount of value a pergola can add to your home are the materials you use, the climate you live in, and your particular slice of the housing market. 
Building a pergola out of a long-lasting material like fiberglass or aluminum can help you get the most bang out of your buck.
Plus, if you live in a warmer climate, your pergola is more likely to be seen as value-adding because people tend to spend more time outside in areas where the weather allows it. 
Finally, the housing market has a lot to do with the kind of return on investment you get for a pergola. If you live in a desirable area that's seeing growth and rising home prices, you're probably in a good position to benefit from a pergola in your yard. 
Pergola Accessories
There are many pergola accessories available today. A few of the most common include overhead fans, built-in lighting, privacy screens, and curtains. You can also choose to go with some sort of automated pergola that can change with the push of a button. 
Some motorized pergolas have slats that you can adjust, allowing you to easily control how much sunlight beams through. Similarly, you can install an automated pergola canopy to give you added protection during those hot summer months. Some pergolas can even double as awnings by becoming weather-proof at the push of a button. 
Pergola Designs
There are plenty of pergola designs out there. We've mentioned two so far: standalone and attached, but there are many variations, which we've listed below. 
Screened Pergola – A Pergola with a built-in screen that cannot be removed on one or more sides. 
Pergola Trellis Combination – Ideal for climbing vines, these pergolas will be covered in plants in no time. 
Columned Pergolas – Instead of your standard straight columns, these pergolas are built with stone (or imitation stone) to mimic the style of ancient Rome or Greece. 
There is really no limit to the design of a pergola. You can build one over your pool or your patio, around a tree, or as a portal to a garden. For most pergola materials, the color options are varied and the design choices can be mixed and matched until you have something unique and beautiful. Or you can simply go with a tried-and-true design. The choice is yours. 
How Much Does a Pergola Cost?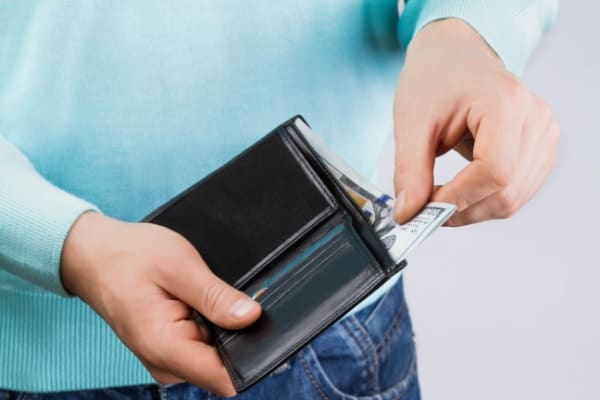 Now to, arguably, the most important part: cost. How much you spend on a pergola depends on the materials you use, whether or not you do it yourself, and the size and design of the pergola. 
Average Pergola Cost
On average, people spend just over $3,500 on a pergola. If you buy a small DIY kit from a box store, you can pay as little as $850. On the other hand, if you get a large, custom pergola built with something like fiberglass, you can spend up to $9,500. 
Pergola Cost Per Square Foot
On average, you're looking at a cost per square foot of $29 to $63. Again, the low end includes wood and vinyl, while the high end includes fiberglass or exotic hardwoods like ipe or teak.
Other Factors Affecting Cost
To complicate things further, the cost of building a pergola will depend on many things, like where you build it. If you want to put a pergola over an existing deck or patio, installation will be more complicated than putting a pergola in over bare earth or grass. Pergolas must be anchored securely where they stand for safety reasons. 
Building a pergola that's attached to your house will also affect the price. On the one hand, you won't need two support columns, but on the other, you'll have to fasten that side of the structure securely to the house, which can take some doing.
You'll also want to think about accessories. Anything that runs off of your home's electricity will require an electrician for proper installation. That includes things like built-in lighting, overhead fans, automatic shades, and many motorized pergola options. The added costs of these accessories depend wholly on installation labor, the price of the accessories themselves, and your particular setup.
In Conclusion
Deciding on a pergola is like deciding on a house. It needs to fit your style, comfort, budget, and ideal location. It's a way to make use of outdoor space in a unique way without breaking the bank. You can accessorize a pergola with curtains and string lights yourself to make it your own. Or you can hire a professional to install add-ons as you like. 
Pergola designs, uses, and materials all come together to make them a good option for those people who want to add a little something at once new and classic to their yard or home.