A deck is an ideal place for a fire pit. There are no dips or swells to trip you up, it's close to refreshments in the kitchen and bathrooms, and you generally have better light on the deck than out in the yard.
But just because it's an ideal place doesn't necessarily mean that you should put your fire pit on your deck. It is entirely possible to safely enjoy your fire pit on your porch or deck, but there are some variables to consider. So, whether it's made out of composite, wood, or some fully-synthetic material, we've got everything you need to know about putting a fire pit on a deck.
This article is designed as an ultimate guide to placing a fire pit on your deck. I'll try not to nerd out too much on the fire ratings of various materials. It will give you an idea of the best materials to consider if you're building or replacing a deck. It will also tell you how best to protect any type of decking from the heat of a fire pit, if you already have a deck you want to use.
I'll also discuss some fire pits that are ideal for use on decks and grass, in case you're in the market for one. So, let's get starting with the first determining factor for a fire pit on your deck.
Is it Legal?
Before you dive into all the fun stuff, get the boring information out of the way. Is it legal to have a wood-burning fire pit in your area?
Some cities don't allow wood-burning fire pits because they're dangerous and contribute to poor air quality. If your local laws don't allow wood-burning pits, check if gas fire pits are legal.
Some areas have frequent burn bans, meaning having a fire is legal only when there isn't a burn ban in effect. If it's common in your area, check to see how frequent these bans are. It may not be worth it to get a fire pit if you can't use it for most of the year.
Wildfire and drought-prone areas have been getting serious about fire regulations. In some parts of California, you have to build new decks (and other structures) with materials rated high on the fire-resistance scale (which we'll get to later). 
Checking the legality of fire pits in your area can save you a massive headache (and money) from the start. Depending on the area, you could be looking at up to $5,000 in fines and possible jail time for ignoring a fire ban.
Once you have determined that you can actually use a fire pit in your area, you can start looking at these next factors. 
Do You Have Room?
No matter what kind of decking material you have— or if you have yet to build a deck— the next thing to consider is space. Do you actually have enough room on your current (or future) deck to safely fit a fire pit?
Distance From The House
There are varying opinions on this, but the minimum suggested distance from anything flammable is 10 feet. However, different places have different rules about this. In some areas, the law says that it needs to be 25 feet from your home. That's quite the difference. Your typical deck isn't going to be 25 feet wide, so it's best to check your local regulations. 
Of course, the risk of you getting caught with a fire pit slightly closer to your house is limited, but I've gotta say that you should always obey the law when it comes to fire safety.
If there are no clear regulations in your area, it's a good idea to at least heed the 10-foot suggestion, for the safety of your home and family. This 10-foot rule also pertains to any other flammable structures, such as wooden railings, trees, plants, and gas grills.
Room for Seating
You'll also want to consider room for sitting. You don't want to have your seating too close to the pit. You want to leave enough room for people to get up and walk around the fire pit without bumping into it or your other guests. Ideally, a cushion of somewhere between three and five feet works well for most setups.
Up, Down, All-Around
Don't forget to check for overhangs, awnings, tree branches, power lines, light strings, and anything else that could possibly be above your fire pit. You'd be surprised how high the heat from a fire goes, so it's best to choose a spot with clear skies above. 
Once you've made sure your spot is good all the way around, consider the surface you're working with. Fire pits can get incredibly hot. Not just directly underneath, either, but all around, as well. 
Fire Pits: How Hot Are We Talking?
Wood-burning fire pits tend to get hotter than their propane or natural gas counterparts. This is a good thing if you're trying to protect your deck, but a bad thing if you're trying to stay toasty.
According to Sciencing, most wood starts to burn at around 570-degrees Fahrenheit. And as it burns it can jump up to over 1,100-degrees. Then, the coals that are formed from the wood fire can burn at 2,000-degrees. Some of this heat is dissipated quickly, but not all of it. 
So, in a metal fire pit, that could mean somewhere between 200 and 400-degrees of ambient heat radiating down toward your deck. The closer your fire pit is to the material, the hotter it's going to get. To give you a little context, check these stats out:
Plastics (like those found in composite decking) melt around 250 to 350-degrees. 
Plastics soften around 175-degrees.
Wood can begin to warp between 250 and 350-degrees.
What Material Are You Working With?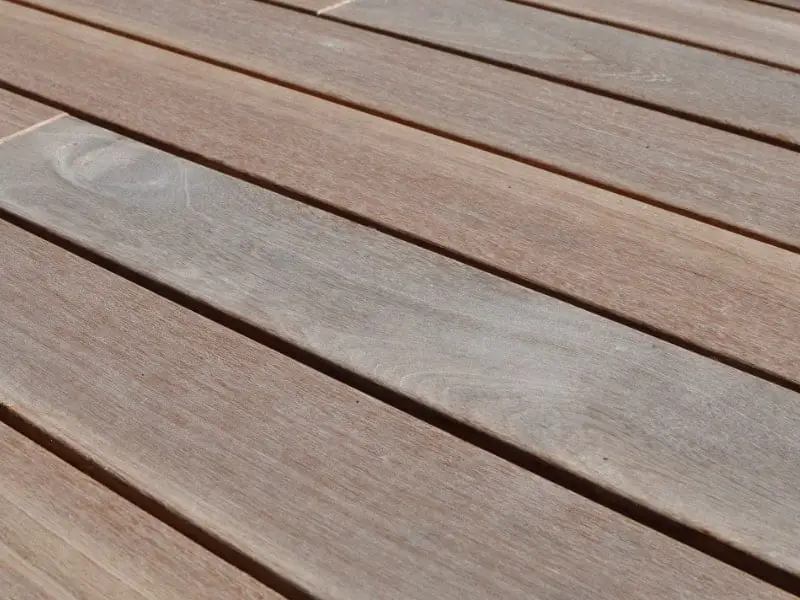 As you can see, no matter what kind of decking material you have, it can probably be damaged by the heat from a fire pit. Exceptions to this would be stone or aluminum decking, but even then a fire pit could still leave a mark or cause discoloration.
That's not to say that you shouldn't consider what kind of materials you use if you're building or replacing a deck. Some composite wood manufacturers make decking material that rates highly in fire-resistance testings.
Fire Ratings 
Class A

Class A materials score between 0 and 25 and are considered the most flame retardant. If you're considering a new deck, Class A materials are the way to go. 

Class B

Rated between 26 and 75, Class B materials are somewhat fire-resistant. 

Class C

With a rating between 76 and 200, Class C materials have been shown to be fire-resistant at only light flame exposure. 
Best Fire-Resistant Decking Materials
Other than treated wood, composite materials are going to be the most cost-effective option. Most wood, however, isn't rated Class A. Many people prefer using composite materials because they are more sustainable and often use recycled material. But, at the same time, they're often capped (covered) with plastic, which is often non-biodegradable. Below are some of the best options for fire-resistant decking materials. 
Wood
Batu – A rich Asian hardwood that looks like mahogany or teak but is generally cheaper. 
Ipe – Also known as Brazilian walnut, Ipe is one of the hardest woods out there. It tends to be a little pricey compared to other woods. 
Cumaru – This highly-rated wood tends to be slightly less expensive than Ipe. It's also a Brazilian hardwood.
Composite
AmeraDeck – This company makes composite decking materials out of fiber, wood, and plastics that are Class A-rated. 
TimberTech – Their AZEK Vintage Collection is fully synthetic and Class A-rated. No wood products to catch fire. 
Trex – This company's actual decking is either Class C or Class B rated, but they do have a Class A rated substructure product, which may be something to consider if you're building the deck from scratch.
Others
You can also find decking made of other materials such as aluminum, bamboo, plastic, and fiberglass. If you're a mind to, it's worth looking at these other options, but wood and composite are by far the most popular options on the market, so I've focused on those. 
How They Hold Up
Fortunately, some guys over at TimberTown did a test, the video for which is below. They performed several tests, one of which was an open flame test. They set cedar, Ipe, a composite, and AZEK— a fully synthetic decking— on a fire for 15 to 20 seconds. The results?
Although the AZEK material did end up looking pretty bad, it didn't actually catch on fire, while the other three did, to varying degrees. You can check out the video here:
Wood, Propane, or Natural Gas?
Now that we've covered the best flame-resistant materials for your deck, let's discuss what type of fire pit is best.
Natural Gas
Natural gas is not really relevant to our discussion. You'll generally have a natural gas fire pit installed by a professional because it runs off your home's natural gas line. If you already have a natural gas line that you can use outside, there are several options on the market that are semi-portable. This means you can use them anywhere your gas line reaches. 
Elementi Granville Fire Table – This natural gas feature isn't technically a "fire pit" but it's a fire table. Depending on what you're looking for, it may work just fine. It's heavy-duty concrete but I would still recommend putting something underneath it if it's going on wood or composite.
Propane
There are plenty of options out there for propane fire pits. Most have a nice little hiding place for the tank and are cheaper than most natural gas options. However, in most of the country, natural gas is cheaper than propane, which you'll have to replace when the tank is empty. You won't ever have to replace your natural gas supply, as it comes from your house (if you have that option). Propane pits are also more portable since they run off of tanks. 
Tacklife Fire Pit Table –  This 28" propane pit/table is great for adding a little heat to your deck. It's self-contained, so there's no line running to the propane tank. Simply install the tank under the table and enjoy the warmth.
Wood
Wood-burning fire pits are a favorite because of the crackling sounds and the campfire smell they put off. Plus, wood fire pits put off more heat than gas or propane pits, if you get the fire going enough. But this is also a cause for concern as the extra heat can damage your deck. If your heart is set on wood, you can absolutely get one with the right deck protection, which we detail below.
Amazon Basics Natural Stone Fire Pit – This fire pit sits on four legs high off the ground, reducing the risk of damaging your deck. It's also available in different sizes if you want to go bigger or smaller. Plus, it includes a spark screen, which is great for stopping embers from marking your deck.
Fire Pit Accessories to Protect You and Your Deck
Now, let's talk about the fire pit accessories that can help protect you and your deck. We'll start with the different ways to keep the heat of your fire pit from damaging your wood, composite, or any other material. 
Pavers
I like to start this section with pavers because they're something of which many homeowners have around the yard. A single layer of pavers, combined with a pit that sits up off the ground, is all you need to protect your deck.
Simply arrange them so that their surface area is greater than that of your fire pit. That way any radiant heat is soaked up by the pavers. The only problem with this method is that pavers are heavy and often coarse, so they can be a pain to move and they can scratch up your deck.
If you don't have any, you can purchase some at your local home and garden store.
Fire Protection Mats
There are a lot of fire protection mats for sale online, but only a few that stand out as high-quality. They're designed for use underneath fire pits and grills. They're not much to look at, but they're also better than having a scorched or warped deck. 
Newtex 36" FirePad Deck Protector – The manufacturer suggests 6-inches of space between the bottom of the fire pit and the mat. Be mindful of the size of your fire pit, as this may not be large enough to fully protect your deck, particularly if you have a large wood-burning pit. You generally want your mat to be slightly wider than the lip of the pit itself. 
Fire Protection Stand
These fire protection stands are pretty great— if you have a small fire pit. Of course, since they're square you could technically buy more than one to put under your pit, but you'd probably be better off just getting pavers and some kind of mat to protect your deck from scratches. If your fire pit fits on one of these 26"x26" stands, make sure the legs of your pit aren't right at the edge of the stand. The last thing anyone wants is to accidentally bump a fire pit and knock it off its stand, possibly dumping coals and burning wood onto your deck. 
Northland 26"x26" Deck Defender and Grass Guard – This stand comes with a 2-year warranty and is made in the USA. It doesn't get much better than this if your pit will fit comfortably on it.
DeckProtect
One company, Infinite Heat Solutions, hand-makes heat shields specially designed to protect decks from fire pits (hence the name). They're made from pressed volcanic rock fibers, making two layers of heat protection. They've got all kinds of sizes and they can even make a custom one for you. Most of them come with little rubber feet on the bottom so you don't damage your deck with scrapes and scratches.  
Wood-Only Fire Pit Accessories and Tips
If you decide on a wood-burning pit, there are a few items you can get to enhance your safety and protect your deck from errant embers that like to pop out of the fire on occasion.
Spark Screen
If your fire pit doesn't come with one of these, it's a good idea to get one that will fit. With a spark screen on, you can still watch and enjoy the fire while keeping it where it needs to be: in the fire pit.
Round Spark Screen – Here's a heavy-duty round spark screen that will fit a fire pit with a 29 or 30-inch diameter. One side of the screen is hinged so you don't have to remove the entire thing to add firewood. You simply lift the hinged side up and it slides back under the other half. 
Square Spark Screen – This screen is available in several different sizes. Chances are one of them will work for your square fire pit.
Ember Mat
Ember mats, like this one which measures 67"x60", are not designed to protect your deck from the heat of your wood-burning fire pit. Instead, they're designed to protect it from embers or coals that pop out of the fire on occasion. 
If you have a spark screen, you probably don't need one of these, but it's an option. You'll want to set this mat underneath (or on top of) whatever you decide on to protect your deck from radiant heat. 
Mind Your Wood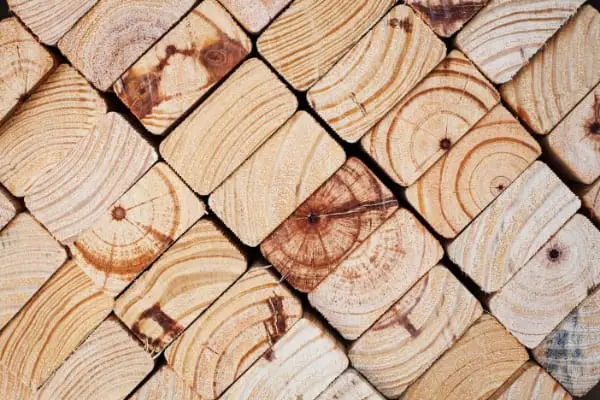 Another way to avoid sparks and embers putting unsightly black marks on your decking is to choose your wood carefully. While it's a comforting sound when a log snap-crackle-pops, it can also send embers at you, your guests, your deck, or even into the gust of wind that swept by at just the wrong time. So, mind the wood you use. 
If you're wondering why your fire pit is smoking so much, you're probably using a type of wood that we suggest you avoid. Excessive smoking and sparking often go together. 
Try to steer clear of these woods in your fire pit:
Fir
Spruce
Pine
Locust
Hickory
These woods don't generally smoke, spark, or pop much:
Oak
Maple
Elm
Birch
Black Cherry
Beech
Other Precautions
No matter where your fire pit is, preparing for the worst can avert a disaster. Below are some other things you can do to ensure that you can enjoy your fire pit with confidence. 
Have water, sand, or a fire extinguisher handy. 
Check the weather before you start the fire— wind can sweep embers into your home, neighbor's home, or the lot with dead grass across the way. 
Never leave a fire unattended. 
Limit your alcohol consumption if you're responsible for the fire. 
Educate kids about proper fire protocols and behaviors. 
Fully extinguish (or turn off) the fire before you leave it unattended. 
Final Thoughts
As you can see, you've got a lot of options when it comes to protecting your deck and keeping your family safe. You can put a fire pit on nearly any kind of decking as long as you take the proper precautions and exercise common sense. 
Propane and natural gas fire pits are easy to turn light and extinguish and they're somewhat safer than wood-burning pits. They also give off less heat than. However, they don't have that campfire smell or the crackling sound that burning wood makes. Of course, many areas have burn bans or laws against burning wood at all, so be sure to check your local regulations before purchasing a fire pit. 
You've got plenty of accessories to choose from. Spark screens, pavers, fire mats, and DeckProtect are a few. It's easy to decide which ones will allow you to have fun, protect your deck, and be safe at the same time.