Outdoor living spaces have become increasingly popular in recent years. And it's easy to see why. If you've ever spent time on your patio or deck with friends and family, enjoying good weather and great food, you know how useful a deck or patio can be. The memories you can create in outdoor living spaces are priceless.
Unfortunately, that's not the only consideration when deciding on the perfect outdoor area. Ideally, you can choose one that will add the most value to your home while providing you and your family with an excellent outdoor space. In order to determine which is best for you, we'll look at the data and answer this common question: Does a deck or patio add more value to your home?
In general terms, a deck will add more value to your home than a patio. Decks average between 65% and 85% ROI (return on investment), whereas patios average between 40% and 65%. However, there are a ton of different factors determining both deck and patio value, including materials, size, maintenance, style, and features. Plus, the ultimate value of any given home improvement project will be determined in part by the housing market and the area in which you live.
Choosing Between a Deck and a Patio
Before we dive into the details, I would be remiss if I didn't suggest a few tips on deciding between a patio and a deck. 
What's Right for You and Yours?
While both options, when done right, will add value to your home, not all homeowners should decide on that factor alone. If you plan on living in your home for many more years, it's probably best to decide what you and your family would enjoy. Then you can take a look at the potential value it will add.
What Would Fit Your Home Best?
You'll also want to consider what style would best fit your home. This isn't just important for increasing the value of your home, but also for your enjoyment. Not every home would look good with a patio, just like not every home would look good with a deck. A good way to determine which one to choose is to look at what the houses around you have. If they're built with patios, a deck may look strange and out of place.
But this gets tricky because in some areas a nice deck or patio will stand out to potential buyers if the other homes in the area don't have them. It's a fine line between standing out in a good way and standing out in a bad way. For advice, you can consult a local realtor to see which option is likely to add the most value for your specific area.
A Deck or Patio Should Look "At Home"
Your new outdoor living area should not only fit the style of your home and neighborhood, but it should also look natural. Sometimes, brand new patios or decks create an unwanted contrast between your home and the new construction. Meaning the addition looks "too new." This typically happens with DIY deck or patio projects.
A professional installation will cost more in both cases, but it's usually worth it in the end. When done right, your patio or deck will look pristine while simultaneously looking like it has been a part of your home since the house was built. This seamless integration is what most buyers are looking for, and will usually get you the most value for your patio or deck.
Upfront Costs
It's clear that a deck adds more value than a patio, but they also cost more upfront. On average, a 16' x 20' deck addition will cost $14,000. A patio, on the other hand, will cost somewhere between $4,000 and $8,000, depending on size and specific materials used. Even if you're planning on selling your house soon, it's not exactly a quick turnaround in either case.
Plus, decks generally require building permits and inspections. If you hire a contractor, they'll usually handle this, but it's still something to consider. In most places, patios don't require the same amount of safety and scrutiny, since they sit directly on the ground.  
How Much Value Does a Patio Add?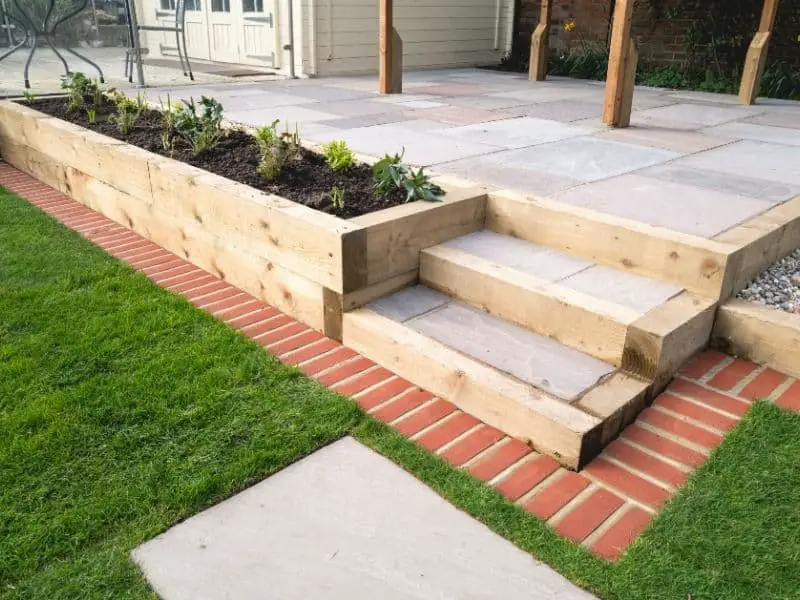 Remodeling, which has been conducting yearly studies on various home improvement projects since 2002, is the best source for this data. For 2020, their report of the top home remodeling projects didn't include patios, presumably because their ROI has dropped below 50%. A 2018 study, provided by the National Association of Realtors, put a new concrete paver patio at a 69% ROI. Below are some factors to consider before installing a new patio. 
Materials
It seems that the more expensive and extravagant you get with your patio construction, the lower your ROI goes. For best results, stick with low-to-mid-range materials and professional installation. This will give you the best bang for your buck. Lately, the most popular patio materials include:
Pre-cut concrete pavers
Stamped concrete (made to look like high-end stone)
Stained concrete
Concrete lasts a long time and is very versatile. Even a basic concrete slab can be stained to look great. Depending on the size of the project, you can get this done for $4,500 to $6,000. You can rest easy knowing that your patio looks great and will give you a solid ROI by adding value to your home. 
Location
As mentioned briefly above, your location will play a part in determining the return on investment for a patio. Outdoor living spaces do best in places with somewhat mild weather all year round. If it's cold 6 to 8 months out of the year, a patio isn't going to add a ton of value to your home, dragging your ROI down below 50% in all likelihood.
Your ROI will also be largely determined by the kind of neighborhood you live in. If your neighbors all have patios made from expensive materials like limestone, quartzite, or sandstone, a concrete patio just isn't going to cut it. You'll need a patio that will compare with those of your neighbors while being slightly better, ideally.  
Maintenance
How long you have the patio before you sell it will also determine the return on investment. This is why maintenance is a big part of installing a patio, particularly if you're going to have it for several years before you sell your house. Luckily, patios are pretty easy to maintain, only requiring basic cleaning every year and re-staining every 2 to 4 years, depending on the material. The better maintained, the more your ROI is likely to be. 
How Much Value Does a Deck Add?
According to Remodeling's 2020 home improvement study, wooden decks provided an average ROI of 72%. This is for a 16' x 20' deck with pressure-treated wood. Other studies put wooden decks at a slightly higher ROI, some as much as 80% or more. No matter how you look at the numbers, decks provide more value than patios. However, there are still things to consider before building a deck in your yard. 
Materials
Like patios, decks made out of certain materials should give you the best ROI possible. Despite the rising popularity of composite decking, wood still wins out. According to the same Remodeling study, composite decking was ranked at a 66.8% ROI. So if you're going to build a deck, go with natural wood construction for best results.
Some low-to-mid-range wood to consider:
Pressure-treated lumber
Cedar
Redwood
Location
Deck ROIs are also subject to climate and neighborhood factors. If you live in a part of the world where extreme temperatures are rare, you're in a position to get a larger ROI for your deck. 
It's also a good idea to look at your neighbors' decks (legally, of course; don't go snooping around in the dark). A deck made of pressure-treated lumber isn't going to cut it if your neighbors all have decks made of ipe or mahogany.
Maintenance
One of the big downsides of wooden decks is their maintenance requirements. They don't last as long as concrete patios, especially if they don't get regular care. Yearly staining and sealing are required to keep wooden decks from warping and fading. For homeowners planning on staying in their home for a while, this is a major consideration. 
In Conclusion
Decks are the clear winner when adding value to your home. However, they do require more maintenance, a higher upfront cost, and are more complicated to build than patios. Where you live, the materials you use, and how long you plan on staying in your home are all things to consider when deciding on a patio or a deck. They both serve similar purposes, and which one you choose may ultimately come down to your personal preferences and budget.