When deciding on the best surface material for outdoor playgrounds, there are several factors to consider. If it's a public playground, you'll want to know what requirements need to be met in order to keep the children playing on it safe and to ensure that the surface materials are up to code. 
If you're looking to find the best surface material for a playground in your backyard, your main factors will concern safety, cost, installation, maintenance, and cleanliness.
This article will give you an in-depth look at the different kinds of playground material popular today. You'll learn about everything from average cost and effectiveness, to the kinds of unforeseen issues you may experience with each material. Below is a list of the different playground surface materials we're going to look at.
Different Kinds of Playground Surface Material
Grass
Bare Earth
Sand
Pea Gravel
Mulch or Wood Chips
Engineered Wood Fiber (EWF)
Rubber Mulch
Poured Rubber & Rubber Tiles
Artificial Grass or Turf
We're going to take an in depth look at each of the above mentioned surface materials so you can decide which one is right for you!
---
Best Surface Materials For Outdoor Playgrounds
Grass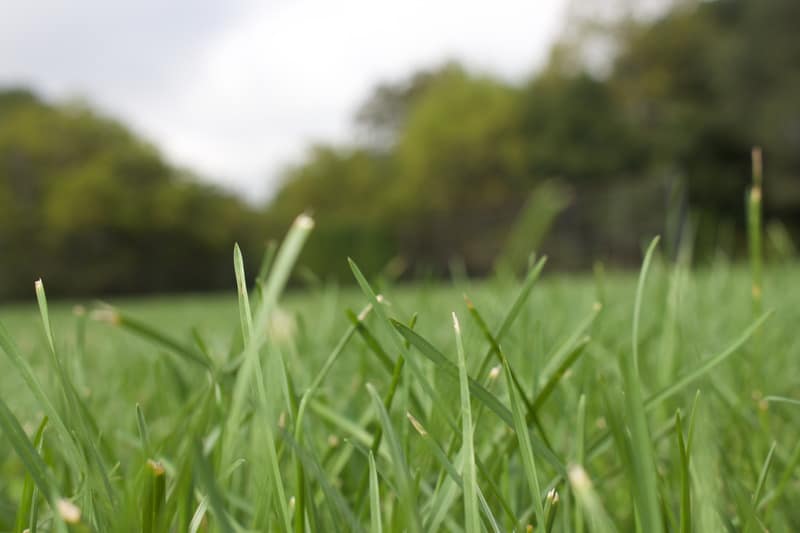 It's common for backyard playsets to be placed on existing grass. While this option requires minimal upfront cost and zero surface installation, there are several things to take into account.
Safety – Safety being paramount when it comes to backyard playgrounds, grass is far from the best option in this regard. While grass is softer than bare ground or concrete, it's not a very good cushion, especially when the height of the swing set or playset is 3-feet or up. In fact, the Nation Playground Safety Institute (NPSI) lists grass as an improper playground surface.
Cost and Maintenance – At first glance cost and maintenance aren't factors when using existing grass under a playset. However, there are some issues that you're sure to run into when putting this option into practice. The first being that the playground equipment will make it harder to care for the grass. Mowing the lawn will be more difficult, plus you're likely to get extra wear and tear around the equipment if your kids use it regularly. 
You'll find yourself trying to revive the grass around the playset to get rid of unsightly bald-spots on the lawn. In the end, it will most likely cost you time and money to maintain the grass under the playset.
Unforeseen Consequences – Since grass requires regular watering, it's almost impossible to keep your new playground equipment from getting wet on a regular basis. While most playground equipment is water-resistant, nothing holds up forever, particularly when it's getting wet every day or a few times a week. This can eventually cause rust on metal equipment and rot on wooden equipment. 
Grass Pros & Cons
---
Bare Ground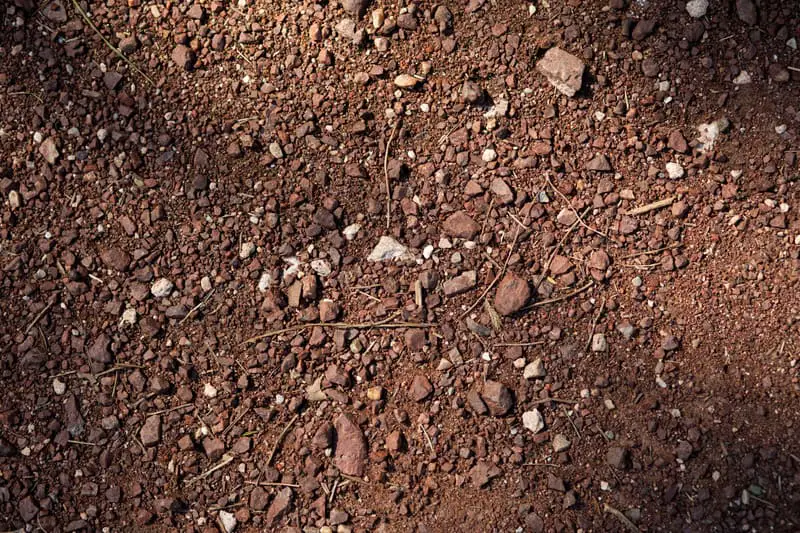 While this usually isn't anyone's first choice as a good playground surface material, it is something to consider if you have limited options or resources. Oftentimes those who opt for grass as their playground surface end up with bare ground if constant wear and tear causes the grass around the set to die.
Safety – Bare ground is another of the National Playground Safety Institute's improper playground surfaces. A fall from any height onto the bare ground is liable to cause injury. 
Cost and Maintenance – Bare ground requires no regular maintenance or upfront installation costs. However, when it rains, bare ground turns into mud which can be tracked around the yard and into the house.
Bare Ground Pros & Cons
---
Sand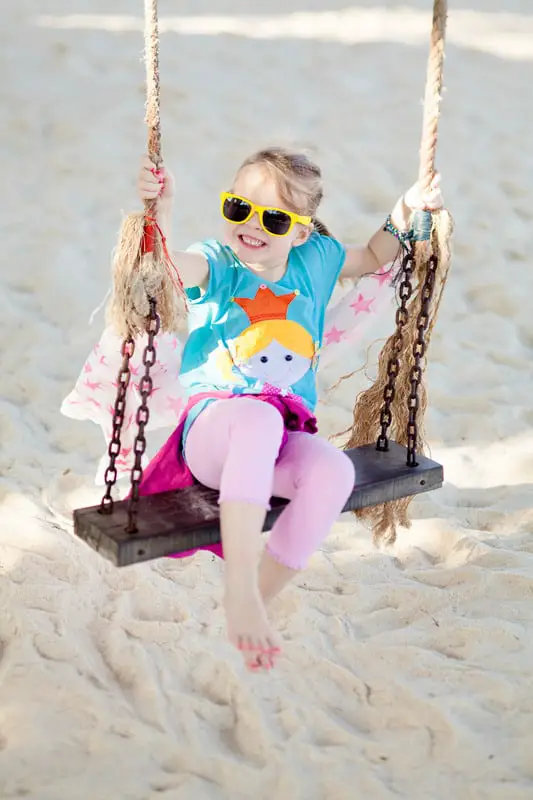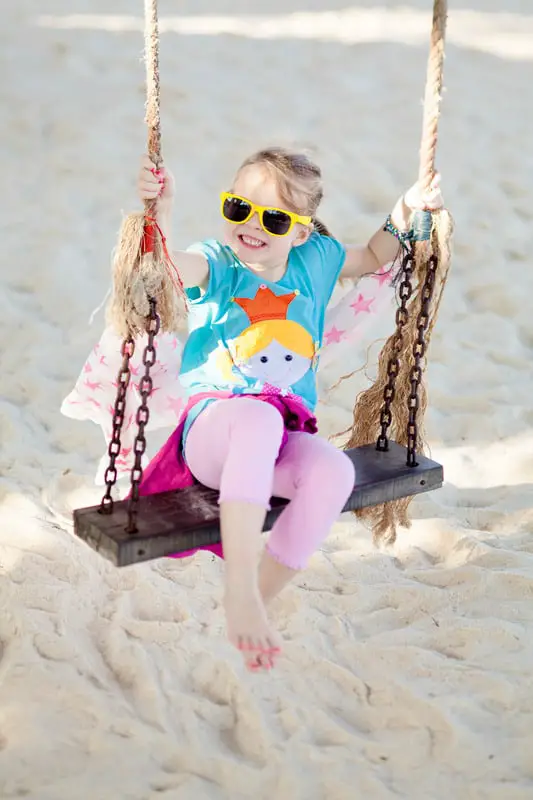 Sand can still be found in a few public parks around the country, but its benefits seem trivial when compared to other options available today.
Safety – Sand is listed as an acceptable surface by the NPSI when maintained at a depth of 12 inches or more. It does a better job of protecting against falling injuries than grass or bare earth, but it can still become hard-packed and jarring for a child to land on. 
It's not a choking hazard for children under 5, but it can contain insects, animal waste, and microbial organisms.
Cost and Maintenance – Sand is one of the more affordable options at between $0.50 to $1.50 per square foot. It does need to be maintained at 12" of depth for best results, which means regular raking or shoveling to even it out. It's also a good idea to have proper drainage in place to avoid standing water. Sand should also be checked regularly for foreign objects that can cause injuries. 
Unforeseen Consequences – Sand can easily end up in shoes, pockets, hair, and stuck to the skin. This means sand can end up in your house after the kids play on the playground. 
Sand Pros & Cons
---
Pea Gravel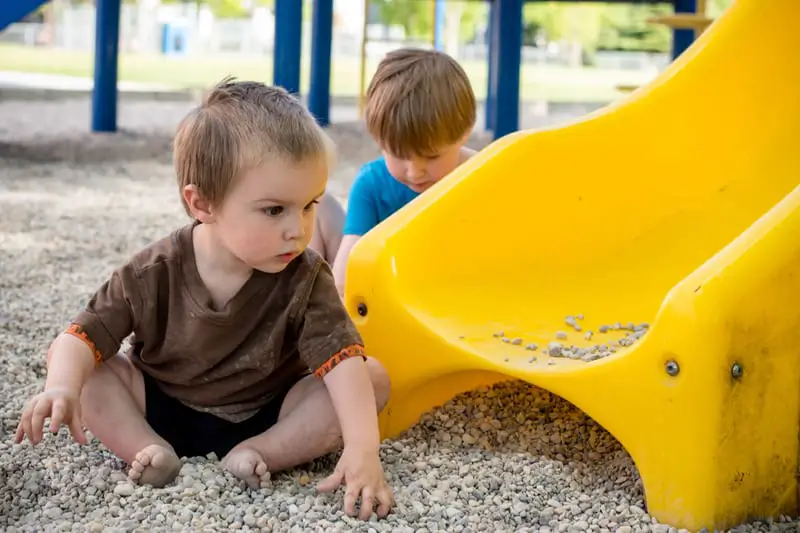 More popular and less problematic than sand, pea gravel is cheap and easy to install. It has many pros, but a few important cons to note when considering these pea-sized rocks for your playground material.
Safety – Pea gravel is considered acceptable material for playground and swing set areas. Like sand, it should be maintained at 12 inches deep or more for effective cushioning. But unlike sand, it does pose a choking hazard for children 5 and under. Luckily, animals, insects, and microbial organisms tend to stay away from pea gravel, making it a safer option than sand, grass, and bare ground.
Cost and Maintenance – One of the most affordable materials for playground areas, pea gravel can usually be found for between $1 and $3 per square foot. It facilitates drainage and tends to settle less than sand. However, it does require regular maintenance to maintain the recommended 12" depth. 
Pea Gravel Pros & Cons
---
Mulch and Wood Chips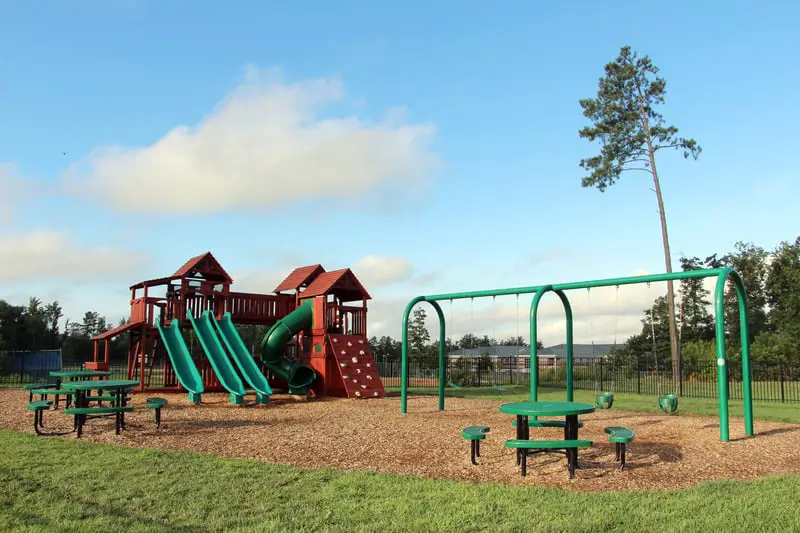 Wood chips and mulch are fairly common on small public playgrounds, although they're not quite as popular as pea gravel and Engineered Wood Fibers (EWF) which we'll discuss next. They do have a few basic benefits, but overall the drawbacks make this a poor choice on the list of potential playground surface material. 
Safety – One of the main benefits of wood chips is shock absorption. At the recommended depth of 12" or more, wood chips can create quite a soft surface to protect against injuries from falls. 
Wood chips and mulch also pose a choking hazard for children under 5. If fresh, untreated wood is used, it has a tendency to mold when wet. Or, if the wood is treated, it may contain harmful chemicals that it's best to keep your children away from. 
Cost and Maintenance – Wood chips tend to cost less than options like Engineered Wood Fiber and rubber mulch, but more than pea gravel and sand. Of course, if you're looking to get high-quality wood chips with no foreign objects and no chemicals, expect to pay a little more. For the best quality, you should expect to pay somewhere between $2 and $5 per square foot. 
Maintaining wood chips or wood mulch as your playground material can be a bit of an ordeal. Since the chips tend to be lighter and easier to kick around than pea gravel or sand, they tend to end up outside of the play area's border. So, if you have a lawn surrounding your playground, expect to find lots of wood chips in the grass after play sessions. 
Wood Chips and Mulch Pros & Cons
---
Engineered Wood Fiber (EWF)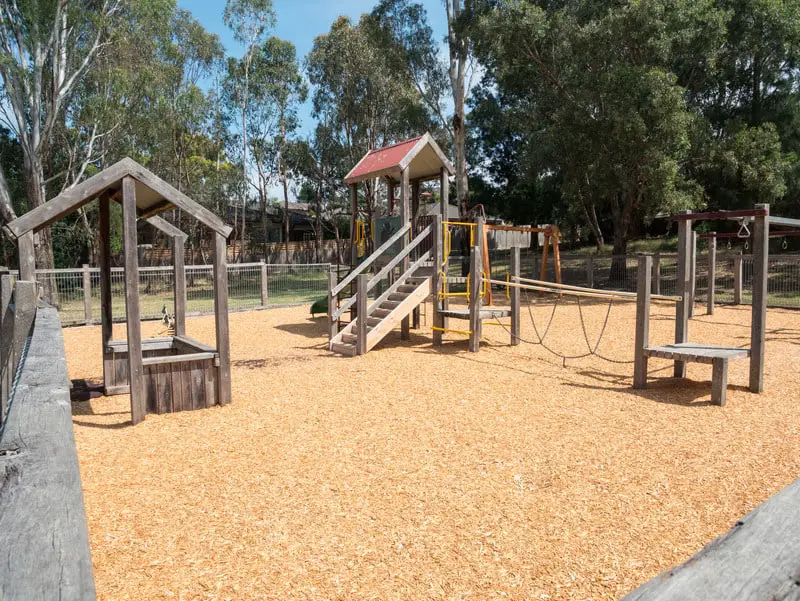 This option is becoming more and more popular today for a variety of reasons. However, EWF is similar to wood chips in many respects, making it only a slightly better option for playground material. 
Safety – EWF provides great shock absorption, much like regular wood chips, when maintained properly. It is also slip-resistant and made out of sustainably forested wood, if bought from a reputable supplier. It does still pose a choking hazard for small children and can hide foreign objects and insects. If you decide to use EWF, you'll want to check with your supplier to make sure they don't use harmful chemicals to bind the fibers together. 
Cost and Maintenance – Engineered Wood Fiber is generally more expensive than wood chips, mulch, sand, and pea gravel. Particularly if you're getting a high-quality, sustainably-sourced product. It can sell anywhere from $3 to $7 per square foot. 
EWF does tend to stay in place a little better than wood chips, but since it's a soft, natural product it does need replacing on a regular basis. It also requires regular work to maintain a safe depth in all areas of the playground. 
Engineered Wood Fiber Pros & Cons
---
Rubber Mulch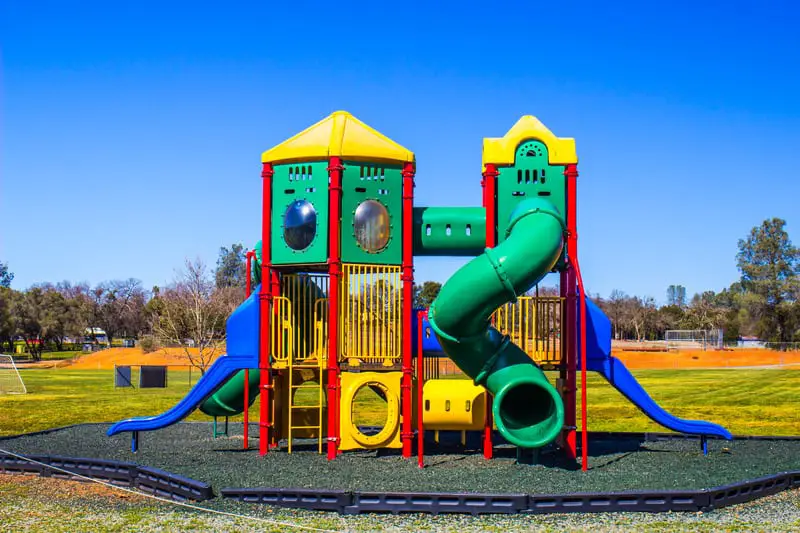 Rubber mulch is often made out of recycled rubber products such as tires. Using recycled material is good for the environment, but keep in mind that tire rubber often contains harmful chemicals and carcinogens. You may want to make sure that the rubber mulch you're thinking of purchasing is free from harmful chemicals. Otherwise, it's a great shock absorber and it's easy to install. 
Safety – Rubber mulch makes a great shock absorber. It does, however, pose a choking hazard to small children. It may also contain chemicals with unknown long-term effects. It will often smell strange when it heats up in the sun, as well.
Cost and Maintenance – Rubber mulch is usually slightly cheaper than poured rubber and rubber tiles, which we'll discuss next. It's also a more expensive option when compared to materials such as pea gravel and sand. It sells for around $11 per 2 cubic feet. Luckily, rubber doesn't degrade easily, so you won't need to replenish it often, if at all. You will want to regularly check it for foreign objects and to make sure it's evenly distributed around the playground.
Rubber Mulch Pros & Cons
---
Poured Rubber & Rubber Tiles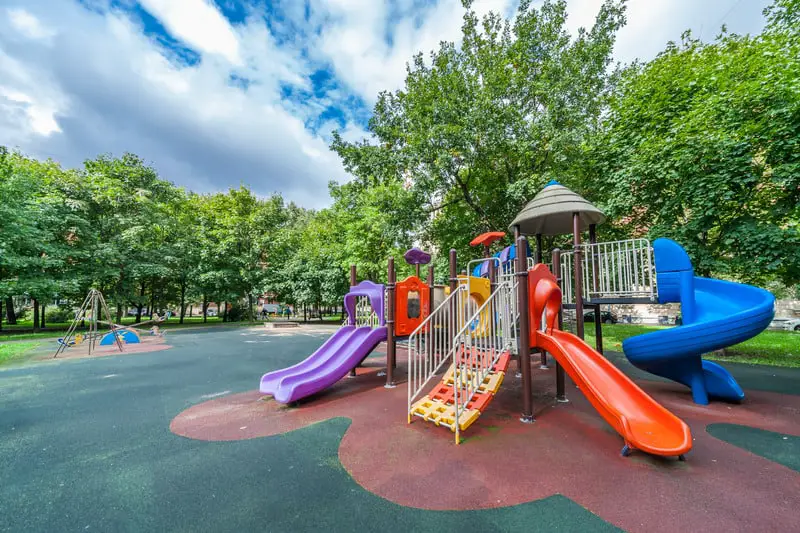 There is much to be said for low-maintenance, shock-absorbing rubber, whether it is poured in place or installed as rubber tiles. For both the overall safety and maintenance are similar, although cost can vary for these two options. 
Safety – Both poured rubber and rubber tiles provide excellent shock absorption for all kinds of different playgrounds and swing sets. They cannot be easily moved around like pea gravel, sand, or wood chips and so provide constant, even protection for your children. 
Some rubber is known to have harmful chemicals that release when heated, so it's best to verify the materials that will be used if you choose this option.
Cost and Maintenance – Poured rubber is an expensive option because it requires professional installation. Depending on the project, it can range anywhere from  $1,800 to $3,500. 
Rubber tiles don't have to be installed by a professional as they are usually interlocking and easy to put together. However, they do require a smooth, flat surface on which to rest. On average, rubber tiles run anywhere from $5 to $20 per square foot. 
Both options require a little upkeep in the form of sweeping or washing to keep clean. Otherwise, they last a very long time and don't require replenishment. They also tend to keep away insects, mold, and germs when cleaned regularly. 
Poured Rubber & Rubber Tiles Pros & Cons
---
Artificial Grass or Turf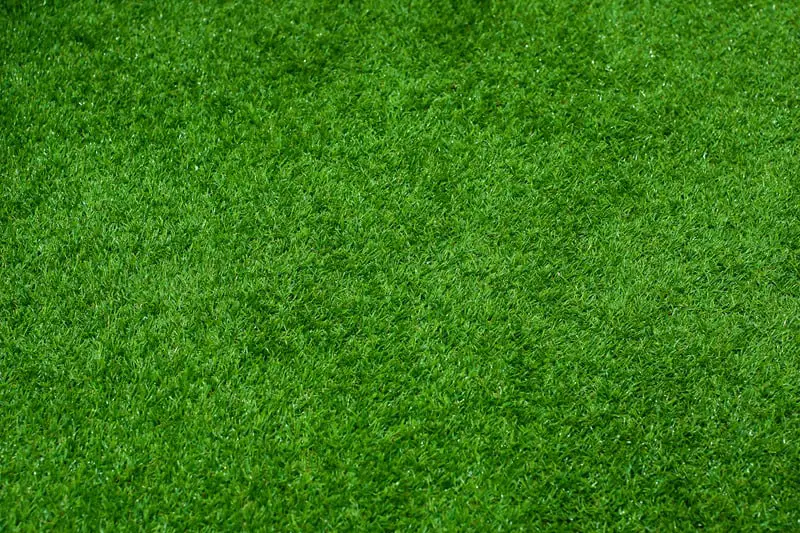 Artificial grass and turf are not themselves protective of falls. At their most basic, they're sold unpadded or lightly padded. For fall protection you may have to install padding underneath the grass or turf, and it may require replacement before the turf does.
Safety – With proper padding, artificial turf provides excellent fall absorption, is wheelchair accessible, remains clean with regular maintenance, and doesn't become slippery when wet. Some artificial turf does get hot in direct sunlight, which can be a health concern. Installing in a shady spot or spraying down with water helps keep it cool in the summer months.
Cost and Maintenance – One of the more expensive playground material options, artificial grass runs anywhere from $3 to $10 per square foot. The thicker the padding, the more expensive it tends to be. But, it doesn't require much maintenance other than sweeping or cleaning with water. You may have to replace the padding underneath, but not before years of use. 
Artificial Grass or Turf Pros & Cons
---
In Conclusion
As you can see, there are lots of different playground surface materials to choose from. Finding the right one comes down to your budget, personal preference, and what you think is best for the safety of your little ones.
A little more money upfront could help reduce the potential for injury of your child in the event of an accidental fall. Playgrounds and swing sets have some risks involved no matter what surface is underneath. But by choosing the best material you can, the chances of your little one getting hurt can be reduced greatly.
I hope this article has been helpful and that you'll now be able to decide which playground surface material is right for you and your family! Be sure to check out the rest of the site for more articles just like this one!